Steven Gerrard scores as LA Galaxy go top in MLS
Last updated on .From the section Football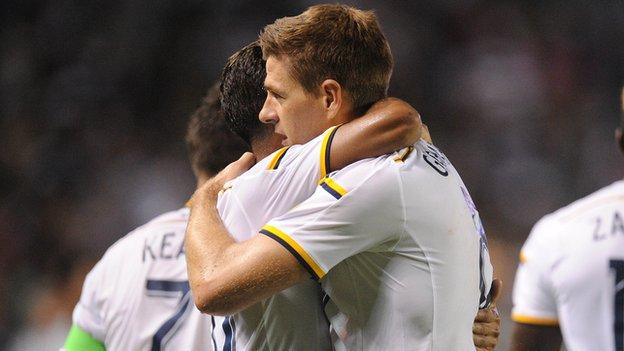 Steven Gerrard scored for LA Galaxy in a 3-2 win over FC Dallas which sent his side top of the MLS Supporters' Shield and Western Conference.
The former Liverpool captain put his side 3-1 up as he added to goals from Giovani dos Santos and Robbie Keane.
It was the midfielder's second goal in his 10 Galaxy appearances after he scored on his debut in July.
"I haven't had a problem with my confidence. I think the goal was good for the team," said Gerrard, 35.
The Supporters' Shield is the standings for the team with the best overall record in a regular MLS season.
"I said last week, we're at the business end of the season," Gerrard added.
"It's all about three points and not about individuals, tallies and who gets what, but it's about the team getting three points. It's a big result for us."