Torquay United: Kevin Nicholson named as new manager
By Brent Pilnick
BBC Sport
Last updated on .From the section Football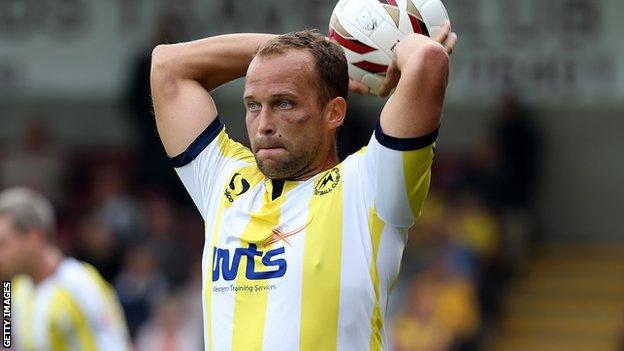 Torquay United have appointed Kevin Nicholson as their new player-manager.
The 34-year-old spent seven years as a left-back at Plainmoor, making 312 appearances and scoring 13 goals.
He replaces Paul Cox, who resigned from the role earlier this month because of the financial pressures at Torquay.
"I can see the huge amount of potential here," Nicholson told BBC Sport. "They're a fantastic set of young lads, they're keen, eager, full of ability and I think I can help."
Nicholson played for the Gulls between 2007 and 2014 and helped them win promotion from the Conference Premier in 2009 before being part of the side which made the 2011 League Two play-off final.
He was also part of the Torquay squad which made the 2012 League Two play-off semi-finals and was named in the PFA's League Two team of the season that year.
"As a player all my best memories are at this club," added Nicholson.
"All the best things that have happened to me have happened here. I've seen it when we've been flying and we've averaged 3,000 fans and I've seen people walking away from the ground with smiles on their faces.
"I've had my plan and my application ready for years and years.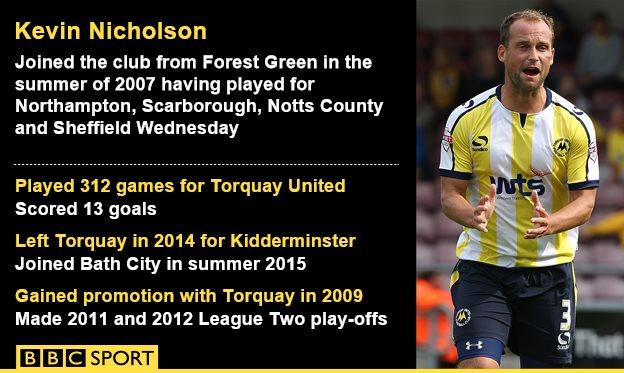 "I knew I'd get this job eventually, I just wanted to be ready for it when it happened, regardless of what age I was and my experience," he added.
Nicholson has been playing for National League South side Bath City this season, having spent 2014-15 with Kidderminster Harriers.
His appointment comes after a turbulent time in the club's recent history - Torquay's former millionaire owner Thea Bristow left Plainmoor in the summer, with a new consortium taking over and being forced to cut costs.
"I'm absolutely delighted to welcome Kevin back to the club, he's been a legend here," chairman David Phillips told BBC Sport. "He seems to be cut out to be a good manager."
Nicholson has yet to appoint an assistant manager and Cox's number two John Ramshaw, who was in charge of the Gulls on Saturday as they lost 2-0 to Lincoln, is still offering his services to the club.
The new Gulls boss must inspire a side who have not won since 15 August - a run of 10 games without a win - and slumped into the National League's relegation zone.
"I'm very hopeful that Kevin is the right man to turn the club around," Phillips added.
"All his interviews went well and experience of the game is impressive.
"He's been a professional footballer for over 20 years, he has a load of contacts, he's looked at the squad and from what he sees he's positive that the team can push on and get back to winning ways."