Cameroon avoid ban as football federation polls are held
Last updated on .From the section Football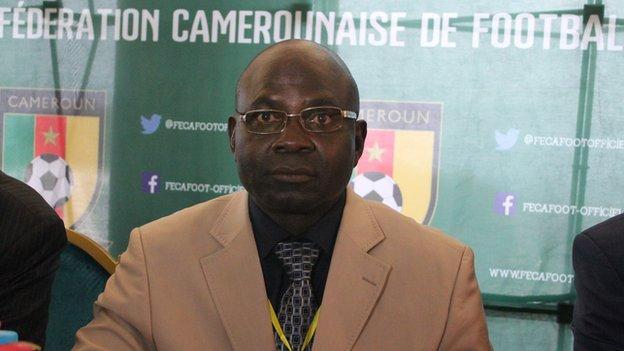 The Cameroon Football Federation (Fecafoot) looks to have avoided a potential ban from the sport after Tombi A Roko Sidiki was overwhelmingly voted in as president.
The former secretary general received 59 votes while the only other candidate Atah Robert Behazah got only two.
Monday was the deadline set by world governing body Fifa otherwise Cameroon faced a ban from global football.
The polls were overseen Primo Corvaro and Prosper Abega on behalf of Fifa.
A Normalisation Committee has been running football since July 2013.
The committee, appointed by Fifa and the Confederation of African Foootball, was put in place after Fecafoot cancelled the re-election of Iya Mohammed as president, since he was in jail awaiting trial at the time.
Earlier this month, Mohammed was sentenced to 15 years in jail after being found guilty of mismanagement at the state-owned cotton company, Sodecoton, by Cameroon's Special Criminal Court.
Created to act as an electoral body, the Normalisation Committee's original deadline of March 2014 for new elections had been pushed back three times for varying reasons.
Fifa recently gave Cameroon an ultimatum that if the Normalisation Committee failed to produce an elected executive Cameroon would be suspended.
Former international goalkeeper Joseph-Antoine Bell, who has been very outspoken about problems within the Cameroonian game, failed in his bid to stand as a candidate for the post.
He told BBC Sport he believed he did not need to send documents, given he had already filed them in February, ahead of elections that were then cancelled.
The applications of four other candidates were also rejected.