Gordon Strachan: Trust remains key for manager's choices

By Richard Wilson
BBC Scotland
Last updated on .From the section Football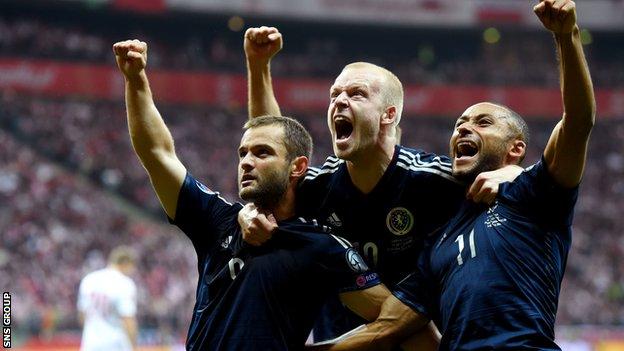 With only two Group D qualifying games remaining, the element of surprise was never likely to be critical to Gordon Strachan's strategizing.
Nobody would respond in astonishment at the inclusion of Graeme Shinnie in the Scotland squad following his fine start to the season with Aberdeen, and while some felt Jordan Rhodes had been consigned to the wilderness, his performances for Blackburn Rovers have been constantly monitored.
Kevin McDonald, of Wolves, has also been called up before, and a theme of Strachan's selections has always been that the core of the squad remains consistent.
There will be plenty of discussion about the merits of Rhodes, and his five goals in seven games for Blackburn this season are merely a reminder of his prolific nature, but Poland and Gibraltar will plan to face familiar line-ups.
Strachan has shown an inclination to promote individuals on occasion, with Andrew Robertson and Matt Ritchie both playing their way into the starting line-up after impressing in training sessions. Even so, the Scotland manager has relied on a group of players who have served him faithfully.
Consistency as the cornerstone
For much of the Euro 2012 qualifying campaign, Scotland have sought reassurance in the recurring service of a group of individuals. The team has generally always contained Gordon Marshall, Alan Hutton, Russell Martin, Scott Brown, Charlie Mulgrew, Shaun Maloney, Steven Naismith and Steven Fletcher.
The consequence has been a string of reliable performances and a strong sense of unity amongst the players.
Strachan maintains that the damaging loss to Georgia was caused by a failure to deliver the final pass in attacking phases - he cited six occasions when an accurate delivery would have created a clear chance - but the flat mood of the display overall was in stark contrast to the spirited resolve shown three days later against Germany.
The instinctive reaction is typically to look for straightforward causes, and many Scotland fans grumbled at the continuing selection of Steven Fletcher over Leigh Griffiths, who has scored regularly for Celtic this season.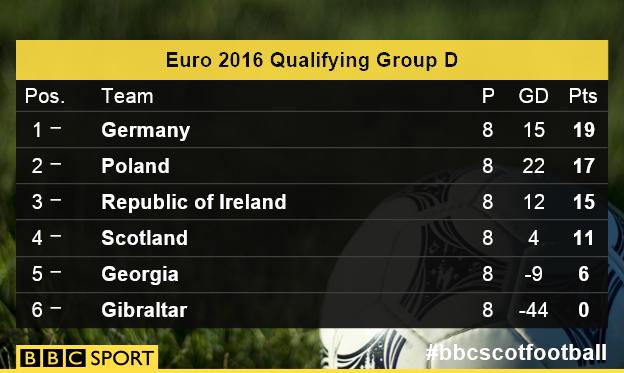 Yet Brown lacked his usual dynamism in midfield, Naismith's edge and flintiness were missing and Ikechi Anya appeared subdued even when there was space to sprint into down the left.
As he devises a game plan for Poland's visit to Hampden, Strachan will weigh up the merits of players who have served him throughout the campaign against the introduction of fresh faces. With the latter comes unpredictability, which will feel like an intrusion when there is so much at stake.
Shinnie brings energy and application to Aberdeen, as well as versatility, but will he fit seamlessly into the back four or central midfield in a game that Scotland cannot afford to lose? Rhodes and Griffiths have scored freely for their clubs, but they play off the shoulders of centre-backs when Strachan may want a forward who can hold up the ball and bring others into play.
The other Fletcher question
When Mulgrew moved back into defence against Germany, his position alongside Brown was taken by James McArthur. The Crystal Palace midfielder merited his place, since his form has been eye-catching in a buoyant Crystal Palace side, but the decision indicated that Darren Fletcher is the fourth choice central midfielder in the squad.
He is no longer at the heart of the Manchester United team, but Darren Fletcher plays regularly in the Barclay's Premier League as captain of West Bromwich Albion. He might be forgiven a sense of exasperation as he dutifully turns up for every Scotland gathering to find that his involvement in the dressing room, on the training pitch and around the squad is valued because he is a fine role model.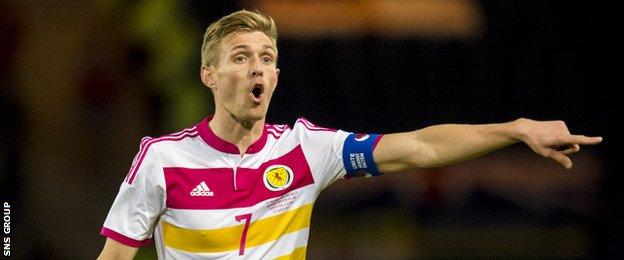 Personality and a sense of responsibility are not enough to propel a player to the top of the game. Fletcher still has worth as an astute midfielder who can link play and bring an air of experience to the core of Scotland's team.
With Mulgrew an injury doubt, and also an option for central defence and left-back, Strachan is likely to choose two of Brown, Darren Fletcher and McArthur.
With James Morrison suspended, and the Poles presenting a test of Scotland's ability to contain opponents, all three might be selected. Fletcher, as a worldly wise and still accomplished midfielder, ought to have a role to play, though.
"He is ready," Strachan said of Darren Fletcher. "There is an extra sharpness that he didn't have six months ago. Tony [Pulis] trusts him, and he has added responsibility at West Bromwich Albion."
Further dilemmas
Any tinkering is likely to be around the fringes of the side. Who will play at left-back and central defence alongside Martin against Poland? Who will join Naismith in the attacking midfield roles, with Maloney not yet a regular with Hull City?
The noise level of the debate around the striker's role is at odds with the options. Steven Fletcher and Chris Martin are similar types of player, while Rhodes and Griffiths offer different options, as forwards who can stretch opponents. Goals are required in both of the final fixtures, but the means to create them will differ.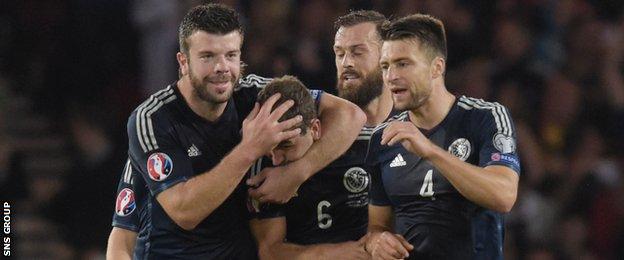 It is hardly contentious to assume that possession will be at a premium against the Poles compared to being central to Scotland's approach against Gibraltar.
Scotland must restrict Robert Lewandowski - who delivered a chilling reminder of his deadly aplomb with an amazing five goals in nine minutes for Bayern Munich against Wolfsburg - without limiting their own attacking endeavours.
The entire campaign now rests on the outcome of four games. Scotland must take at least four points, whilst hoping that the Republic of Ireland's results against Germany and Poland are also accommodating.
The expectation, then, is of Strachan keeping faith with the players who have brought him this far.