Stevenage: Teddy Sheringham accepts fan 'grumblings'
Last updated on .From the section Football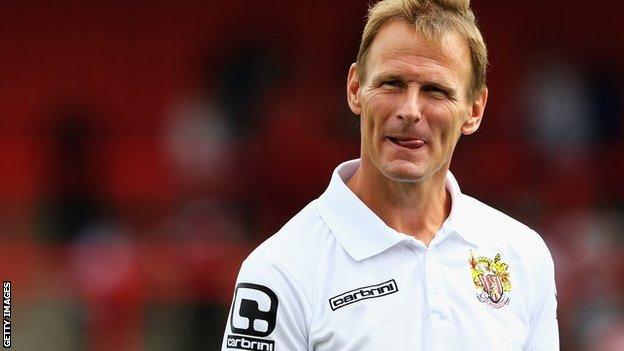 Stevenage manager Teddy Sheringham says he understands "grumblings" from the fans after three straight defeats.
"I've got no complaints with the supporters, they come here and pay their money. They voice their opinions about what they see," he said.
"I'm judging my players and am as harsh on them as anybody is. I want them to do well, same as the supporters."
Stevenage, who made the League Two play-offs last season, are currently 20th in the table under former England striker Sheringham, in his first managerial position.
The 49-year-old continued to BBC Three Counties Radio: "At this moment it's not good and I know it's not good. It's understandable the little grumblings we're hearing. I know it can be a lot worse, I've been at clubs before when it has been a lot worse.
"We have to stick together as players and staff and I have no doubt if the performances turn around they'll be right behind us.
"But I've said from the start of the season that it works hand in hand - they have to see something first to get excited, for us to then respond to that excitement, and them respond to that again. It's no different now; we have to dig deep and be strong together."
Despite the poor run of form Sheringham, who took over from Graham Westley in the summer, says he is content with most of his squad but would still like to bring in some fresh faces.
"I've said all along that I'm very happy with the squad I've got. I'm a loyal person and I feel like, the majority, I like what I've got.
"I've not changed my mind, I'm not a fickle person. I have been saying all along that I'd like to add one or two that is still the same - the majority, I'm still quite pleased and optimistic with what I've got."