Wolverhampton Wanderers: Jez Moxey confident of new buyer
Last updated on .From the section Wolves
Wolverhampton Wanderers chief executive Jez Moxey believes the club is a more attractive proposition for buyers than their West Midlands rivals.
They join local trio Aston Villa, West Brom and Birmingham in looking for new owners, but Moxey is confident they can find a buyer for debt-free Wolves.
"It's a very clean football club, a simple transaction to do," Moxey said.
"The beauty of this club, perhaps against some of the others is that it is owned by one man - 100%. There is no debt, the stadium is freehold, the new £30m training ground is in effect freehold."
Liverpool-born Morgan, who founded the Redrow house-building company, decided to sell the club so that he could "pursue other commitments", according to Moxey.
He confirmed Morgan had been in a confrontation with some fans after the 1-1 draw at Preston on Saturday, but said supporter criticism was not to blame for the 62-year-old's departure.
"He can take the rough and the smooth of abuse, that is part and parcel of football," Moxey added.
"We all don't like it, anyone coming into the game has to understand that. He got that and that wasn't the reason."
Moxey described Morgan leaving Molineux as a "sad day" after giving the club significant financial backing since taking over in 2007.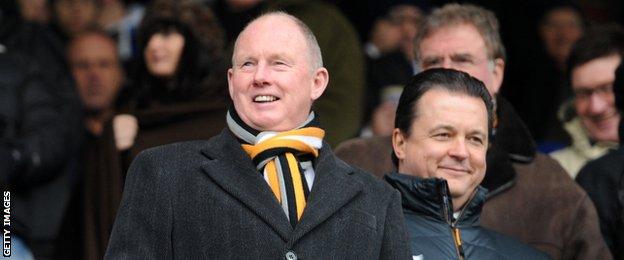 "On day one he transferred £30m into the bank account of Wolverhampton Wanderers," he said. "He has sanctioned over £85m in transfer expenditure, players fees, agent fees, not including the wages of players."
Moxey will manage the club's day-to-day business affairs and admitted finding a new owner in the mould of Morgan and previous owner Sir Jack Hayward would be challenging - but was achievable.
"We will find to find the right person, from wherever that comes," he said.
"Steve's reputation is very important to him and his legacy will be important to him so finding the right person to take the club forward is of paramount importance."
BBC WM's Mike Taylor (Wolves reporter)
"Jez Moxey's comments underline that once the drama of this week's announcement has faded, a long period of limbo may lie ahead.
"While it is undoubtedly helpful that the club is, in Moxey's words, 'clean' and ready for a 'simple transaction', the biggest obstacle may be the investment that would have to be made to move the club forward after such a deal.
"Even if Morgan were to sell Wolves for £10 as Sir Jack Hayward did, new owners must know that keeping a club you buy for a tenner competitive can be a pricey business - as Morgan himself might testify."