Football League reveals average cost of tickets for 2014-15
Last updated on .From the section Football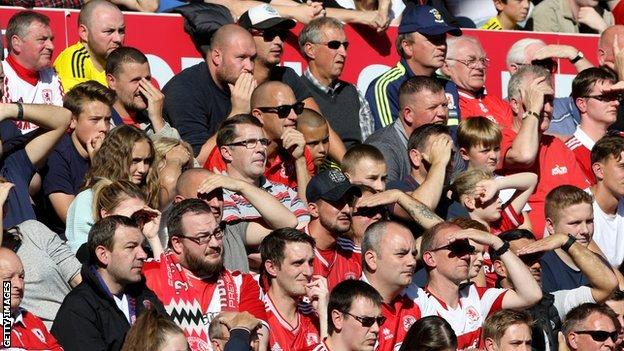 The average cost of Football League tickets across its three divisions over the 2014-15 season was £14.08, the organisation has announced.
In the Championship the average cost was £15.65, in League One it was £11.72 and in League Two £11.58.
This weekend, fans across England are to protest about high ticket prices.
In 2014, the BBC's Price of Football study found ticket prices had risen at almost twice the rate of the cost of living since 2011.
It also found that the average cost of the cheapest match-day ticket had increased by 31.7% in League One and 19% in League Two, while in the Championship the average price had fallen 3.2%.
This year's Price of Football study will be published on 15 October.
The Football League's chief executive Shaun Harvey said the average prices, which the Football League has calculated for the first time, showed that its clubs "continue to offer value for money".
The figures were calculated using adult and concessionary prices for season ticket holders, non-season ticket holders, corporate hospitality and away fans.
This weekend, fans from 10 Championship clubs and all 20 Premier League teams intend to protest as part of a campaign organised by the Football Supporters' Federation called 'Twenty's Plenty', which calls for a £20 cap on away ticket prices.