Familiar faults return to hurt Celtic in Fenerbahce draw

By Richard Wilson
BBC Scotland at Celtic Park
Last updated on .From the section Football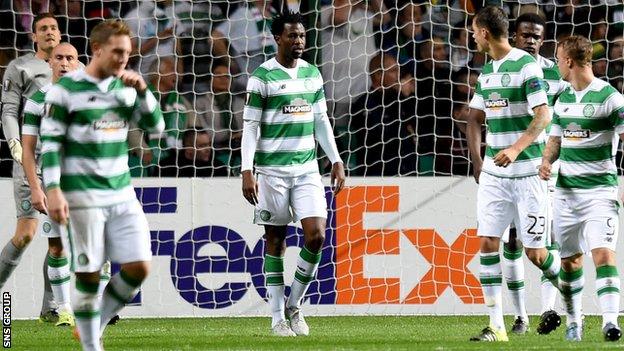 Regret was the instinctive response in the aftermath of Celtic's 2-2 draw with Fenerbahce.
That emotion was evident in the crestfallen look on Efe Ambrose's face as he stood on the pitch after the final whistle, clutching an opponent's yellow and blue jersey, shaking his head disconsolately.
The Celtic defender might have been asking himself silently, why? Why was he unable to deal more decisively with the simple task of heading the ball back to goalkeeper Craig Gordon under only the merest pressure from the nearby Fernandao?
Ambrose is prone to lapses in poise, though, and instead he presented the Brazilian striker with an opportunity to pull one goal back. He took it, nervelessly, and a simple act of hesitation changed the dynamic of the match.
An entire 90 minutes cannot be reduced to a single moment, or the haplessness of an individual, but circumstances conspired to make Ambrose's mistake pivotal.
The timing - with the goal coming two minutes before half-time - meant that the visitors had a cause to rally round during the interval, rather than an inquest to hold.
So when the second half kicked off, Fenerbahçe were emboldened and within three minutes they had equalised. A game that Celtic had been in control of, against a team of internationals put together on a budget that dwarves that of the home side, suddenly turned against them.
More set-piece problems
Regret was the reaction at that moment because familiar failings had undermined Celtic.
Ambrose's career is strewn with errors, he tends to succumb to a moment of calamity in every game, while Fenerbahce's equaliser arose from Celtic's inability to defend a set-piece.
That failing, along with surrendering a lead, has become a motif of this season. By full time, there was further regret that a resurgence during the second half, a restoration of their previous enterprise and endeavour, did not deliver a winning goal for Celtic.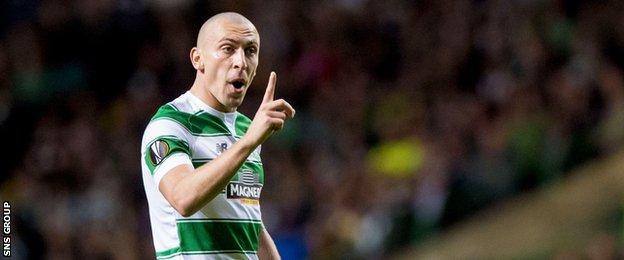 Manager Ronny Deila would have felt regret, too, for a summer recruitment campaign that left him fielding a teenager at left-back - albeit the excellent, calm and composed Kieran Tierney - and having to rely on Ambrose at centre-back because there were no other options.
This was a game that both restored heart to Celtic, but also castigated them.
Fenerbahçe have been lavished with funds, and spent them on esteemed footballers, yet the home side were dominant for long spells. Even so, careless defending proved costly.
In isolation, that kind of misfortune can be borne. Yet Celtic surrendered a lead in the opening Europa League Group A game in Ajax in another 2-2 draw, while similar lapses have occurred domestically. The defence, in its various guises this season, remains a work in progress.
Brown back to his best
Other aspects of the performance were familiar from the past, but welcome for that. Scott Brown was steadfastly authoritative in midfield, full of vigour, poise and defiance.
Raul Merieles clattered off him and onto the ground during an early passage of play, but more encouragingly for Celtic and Scotland, Brown later in the half expertly controlled the ball as it dropped from a great height, slipped away from Merieles, then surged dismissively upfield. The Portuguese midfielder has 76 caps and has previously played for Porto, Chelsea and Liverpool.
When Celtic were revived in the second half, a response that told encouragingly of their strength of mind and spirit, Brown was prominent again.
Fenerbahçe players bickered at him, but that was a measure of their frustration. This Brown, full of dynamism and with a deftness of touch on the ball, is priceless to Celtic.
Commons is key in Europe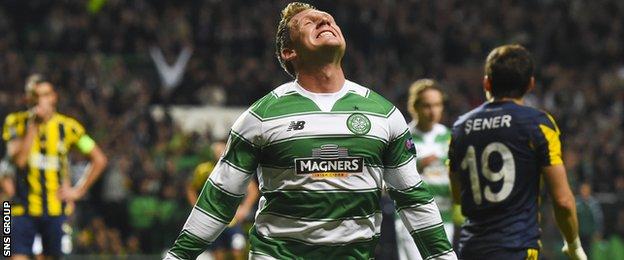 So, too, in a different way is Kris Commons. It was his corner that led to Leigh Griffiths opening the scoring - proving once again that his prolific instincts can find room for expression at this level of European football - and then Commons scored Celtic's second goal.
Deila's side has struck four times in the Europa League and Commons has been integral each time.
He has the touch, awareness and imagination of a thoroughbred footballer, but how Deila must wish he could cover the field and be as influential in more phases of the play as Diego, the gifted Brazilian midfielder who came on at half-time for Fenerbahçe and enlivened their play with energy, technique and vision.
Still, in this form, Commons is a worthwhile luxury for Celtic. It was heartening, too, that James Forrest was full of darting pace and conviction on the left flank, reminding us again that when he is fully fit and self-assured he brings a directness to the game that can be thrillingly decisive.
Deila could take positives from the game but still face merited questions about Ambrose and his tendency to make critical mistakes, as well as the marking at set-pieces that undermines his team.
Those faults are recurring, and they left Celtic feeling frustrated, even if the likes of Brown, in particular, Commons and Forrest showed that Celtic can be competitive against a team that, by its spending and the status of its players, presents a Champions League-level challenge.