Sierra Leone to host World Cup qualifier in Nigeria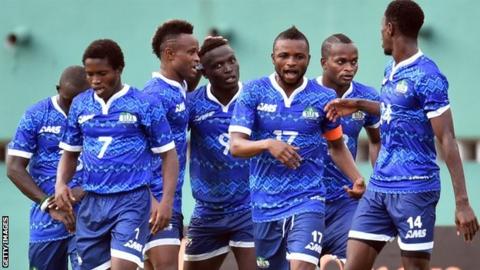 Sierra Leone will host the second leg of their 2018 World Cup first-round qualifier against Chad in Port Harcourt, Nigeria on 13 October.
The Leone Stars are banned from playing in their own country because of the threat of the deadly Ebola virus.
"We are thankful to the Nigerian FA and authorities in Port Harcourt, " Sierra Leone Football Association official Sorie Ibrahim Sesay told BBC Sport.
"And hopefully we'll eliminate Chad," added Sesay.
Sierra Leone used Port Harcourt as their home ground for their Africa Cup of Nations qualifier against Ivory Coast last month, which ended goalless.
Before that the country's national teams had been playing home fixtures in the venues of their opponents and had lost most of the matches.
However, the ban - in place since August 2014 - will be lifted in November if no new Ebola cases are registered, as the country is now into a 42-day countdown to be declared free of the virus by the World Health Organisation (WHO).
Meanwhile, Leone Stars coach Sellas Teteh has named 13 foreign-based players for their two-legged fixture against Chad.
The United States MLS leading goal scorer Kei Ansu Kamara is among the invited foreign-based players.
Leone Stars will face seven-time African Champions Egypt in November if they knock out Chad.