Kei Kamara takes an international break from Sierra Leone
By Mohamed Fajah Barrie
BBC Sport
Last updated on .From the section Football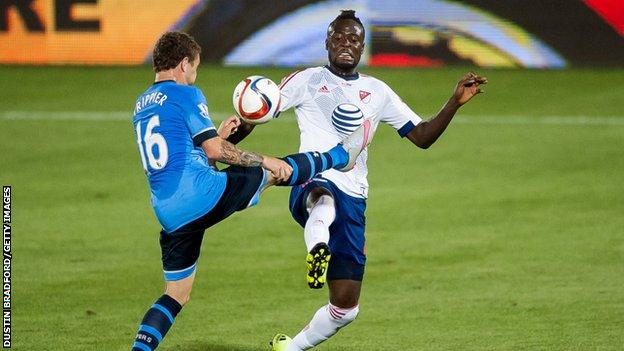 Columbus Crew striker Kei Kamara, currently the leading goal scorer in USA's Major League Soccer (MLS), has put his international career with Sierra Leone on hold with immediate effect.
The 31-year old has accused the Sierra Leone Football Association (SLFA) of a lack of respect for players.
"I have taken myself out of the national team for now because we are not respected and treated fairly by the Sierra Leone FA," Kamara told BBC Sport.
"I'll now spend time with my daughter and I'll decide if our last match with Ivory Coast was my last game for Sierra Leone."
Despite his comments, the former Norwich City and Middlesbrough forward has stopped short in giving specific details of incidents involving players and the SLFA.
"I can't give an example for my reasons because it is not one, not two, not three incidents," said Kamara.
The SLFA have refuted Kamara's claims.
"It's not true that we are not respecting our players and we are treating them unfairly," the Vice President of the SLFA Brima Mazola Kamara told BBC Sport.
"Kei is not the captain, he is talking for himself."
Brima Mazola Kamara admitted that there has been an issue regarding players' bonuses.
"Yes, there have been some delays in terms of paying bonuses on time but we pay them at the end," Brima Mazola Kamara explained.
"Our last game against Ivory Coast was one of the matches where payment of bonuses were delayed, not to our making."
Kei Kamara's decision comes a week before Sierra Leone open their 2018 World Cup campaign against Chad and his decision will be a big blow for Leone Stars.
He was among 13 foreign-based players invited by Coach Sillas Teteh for the two legged fixture on October 10 and 13 respectively.
The striker is currently in a rich vein of form. He is the leading goal scorer in the MLS, netting 22 goals so far.
But the SLFA say they can cope without him.
"Kei's decision is untimely and we are faced with no option but to replace him.
"We can cope without him but it would have been an advantage for us if he's in the team because he's doing well at the moment" added Brima Mazola Kamara.
Kamara says he made up his mind to take an international break over a year ago but decided to wait to see if things changed within the current administration.
"I have taken the decision for over a year now but I was just giving the new federation a chance to see if something will change.
"I have been part of the squad since 2008 and my only hope was to represent Sierra Leone at my best."
Kei Kamara also highlighted internal problems within the SLFA as an obstacle to success on the pitch.
"I'm frustrated with everything going on that affects our performance on the field.
"The internal fighting within the SLFA is not helping because when they fight we suffer.
"It's everything going on that affect our performance on the field.
"It's like a war when it's going on. The innocent people will always be victims and when you have a chance to escape the trouble you make your way out.
"I have hope and pray for a change for years but am left with stepping away," Kamara said.
This is not the first time Kei Kamara has been at loggerheads with the SLFA, having been twice been suspended by the previous administration.