Cardiff City went into their 'shell' at Brighton - Russell Slade
Last updated on .From the section Football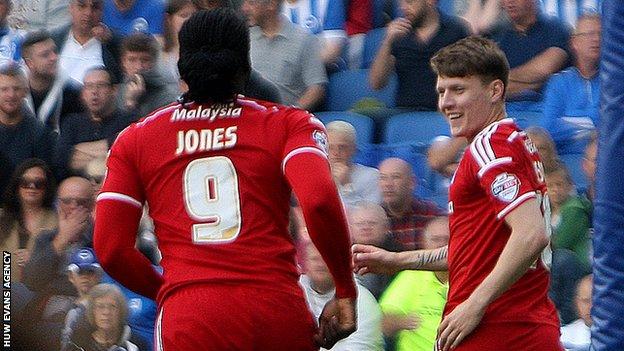 Cardiff City manager Russell Slade has lamented his side "going into their shell" after Joe Mason gave them the lead at Brighton.
Slade said Brighton were "excellent" and Cardiff were not at their best.
"We got ourselves a great goal from the things we had talked about and worked on in training. But we didn't back that up," said Slade.
"We seemed to go into our shell a little bit."
The Bluebirds dropped to eighth having become the first team this season to go into the lead at Brighton.
'It was always going to be hard'
"We've come to a team that's absolutely rampant at home, full of confidence and got great momentum and it was always going to be a hard place," said Slade.
"It was always going to be a difficult game.
"But we acquitted ourselves well in the first 10 minutes."
Slade says Cardiff were guilty of "waiting for things to happen" and relying "too much on maybe a counter-attack".
He added: "If that's the case, then in the transition, your next pass has got to be a really, really good one.
"And six or seven times we got the ball back and just gave it back.
"We were handing them the initiative far too often. We caused a lot of our own pressure."
Slade succeeded Ole Gunnar Solskjaer as Cardiff boss in October, 2014 and the former Leyton Orient boss believes the team he inherited would have struggled to earn a point at Brighton.
"We've still managed to get something out of the game, which is pleasing," said Slade.
"I'm not sure that we'd have got anything out of that game last season."