Premiership: 'Protect Greg Stewart' urges Paul Hartley

By Alasdair Lamont
BBC Scotland at Dens Park
Last updated on .From the section Football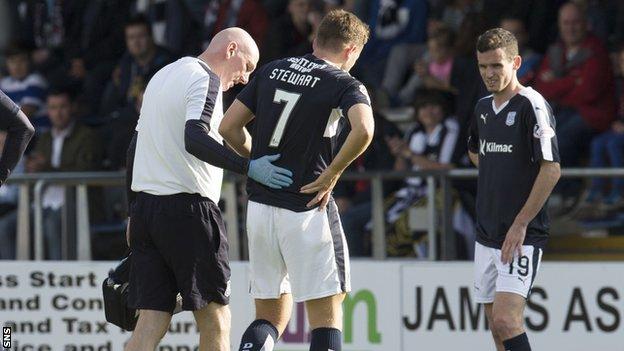 Dundee manager Paul Hartley wants referees to offer Greg Stewart more protection from what he believes is becoming a regular tactic.
Stewart's match was ended by a first-half challenge by Louis Moult and the player left Dens Park on crutches.
Hartley believes action has to be taken to prevent further injuries.
"Stewart gets targeted again with another challenge. It seems to be happening every week with Greg," he told BBC Scotland.
"They know how good he is and obviously people will be watching him, but I feel it's every week now and he needs a little bit more protection from the referees.
"It's something we've got to look at. It was a late challenge, but it's not just this game."
Hartley said he had not spoken to any match officials about his concerns after Dundee's 2-1 win over Motherwell.
However, he added: "It's something we've got to speak about. He's going to get a serious injury.
"He's in there with a sore ankle and hopefully it's not too bad."
The Dundee manager was largely pleased by his side's improvement in the second half, but Motherwell interim boss Stephen Craigan felt weaknesses at both ends of the park cost his team dearly.
"The huge disappointment was we didn't build on the result of last week," Craigan told BBC Scotland.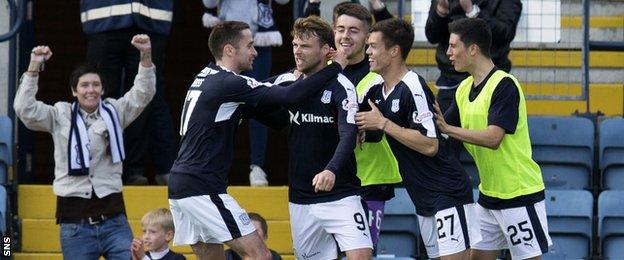 "If you concede poor goals - we've done that continually throughout the season, give up cheap goals, give ourselves mountains to climb and ultimately we can't come back."
Scoring goals has also been a recurring problem for Motherwell.
"It's about composure. We had - over the piece - four strikers on the pitch today and we scored one goal from a midfield player," said the Northern Irishman.
"I'm not too sure if any of our strikers had an attempt on goal.
"That's a concern going forward because we're certainly getting creativity in wide areas, putting the balls in the right areas.
"It's up to the players to show a bit of responsibility at times as well and put the ball in the net.
"Players have been brought in here to do jobs and I'm not too sure if they're reaching the levels they're capable of.
"Again, we get two, three or four players doing okay and the rest maybe not up to the mark and that's been summed up over the season."
Craigan was asked about his own future but stopped short of saying whether he wants to be considered for the post permanently and he admitted he has "no idea" what will happen over the international break.
"It's a time of reflection and a time of reflection for the players as well, a time for them to decide what they want to do with their Motherwell career first and foremost and see what they want out of their own career," he said.