Supporters stage ticket price protests across English football
By Alistair Magowan
BBC Sport
Last updated on .From the section Premier League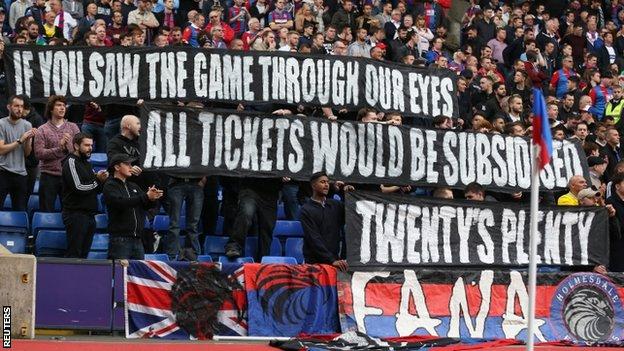 Supporter groups united across English football on Saturday to protest about the cost of ticket prices.
Fans unfurled banners at Premier League and Football League games demanding that away tickets are capped at £20.
Away tickets can cost up to £70, with cheapest top-flight tickets rising by 15% since 2011 to between £15 and £50.
"This is the biggest protest we have seen across such a breadth of clubs," said Michael Brunskill, of the Football Supporters' Federation (FSF).
"We have seen protests at 30 or so clubs and it's been a real boost to see the fans stand together on this issue.
"In the modern age, and the way they can work with each other over social media, I think this will grow."
After a demonstration was held before Manchester City's game against Newcastle, banners were seen supporting the FSFs' 'Twenty's Plenty' campaign at Premier League games between Crystal Palace and West Brom, Aston Villa and Stoke, Bournemouth and Watford, and Chelsea against Southampton.
Protests were also seen at Championship games including Leeds against Birmingham, and Reading against Middlesbrough.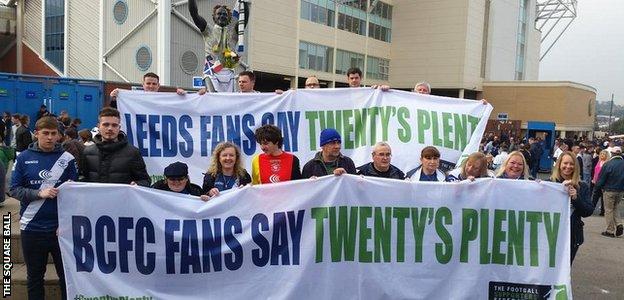 Further demonstrations are set to continue on Sunday at the Merseyside derby and at Arsenal's home fixture with Manchester United, where rival fans will join forces to make their feelings known on the long-running issue.
The Premier League says that capacity in top-flight stadiums is at 95.9% and clubs have a "huge number of offers" for supporters to make tickets more affordable. The Football League said the average price of tickets in Championship and Leagues One and Two last season was £14.08.
But the FSF wants Premier League teams to ensure that some of the money they earn from a new £5.14bn TV deal, due to start next season, is passed onto supporters by reducing ticket prices.
"There is a clear and consistent message coming from fans that they want ticket costs reduced, particularly for away games where they spend even more," Brunskill added.
"This is not just a Premier League issue, so we hope more clubs follow the good examples that have been set.
"Coventry in League One have promised that every fan at the Ricoh Arena will play £20 or less and if every Football League and Premier League club followed their lead we would all be a happier bunch."