Will under-pressure Premier League managers be given time?
Last updated on .From the section Premier League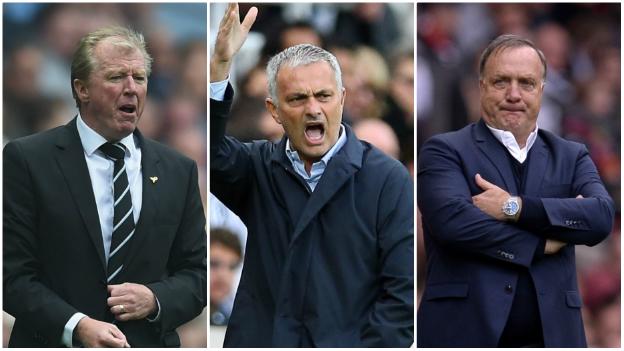 Five Premier League managers find themselves under intense pressure after disappointing starts to the campaign.
With the international fixtures just around the corner, it is a time when chairmen consider their options, knowing a two-week break gives them the chance to find a replacement should a change at the top be required.
Here, we look at what those managers are saying, what the statistics tells us and we get BBC Sport's chief football writer Phil McNulty to deliver his verdict on their prospects.
What the managers say
Chelsea manager Jose Mourinho, whose side are 16th in the Premier League table after losing 3-1 at home to Southampton: "If the club wants to sack me they have to sack me because I am not running away. If they sack me they sack the best manager this club has ever had."
Liverpool manager Brendan Rodgers, whose side are 10th going into Sunday's Merseyside derby: "I'll always work the best I can, but I'm not seeking any reassurances, I am not worried at all. There's a hysteria around the club. It's a huge club, a worldwide, iconic club, so the scrutiny on it is huge."
Sunderland head coach Dick Advocaat, with his side 19th in the table following their 2-2 draw against West Ham: "Today I am the manager, what will happen in next days, weeks and months, I cannot say. I've made a decision."
Newcastle head coach Steve McClaren, whose side are bottom of the Premier League after they were thrashed 6-1 at Manchester City: "Is the job harder than I thought? Absolutely. Without a doubt. There is pressure to perform at the standard we want. You should have that pressure and fear. That makes you concentrate."
Aston Villa boss Tim Sherwood, whose team are 18th and four points from safety after a 1-0 home defeat by Stoke: "I am the manager and I have to take responsibility. That's my job and I understand that fully. It's a tougher job now than it was 10 or 15 years ago. You used to just have Saint and Greavsie but there are a few more pundits around these days."
The Match of the Day pundits' views
Chelsea
Former England captain Alan Shearer: "There are major problems in that dressing room. All Mourinho's rocks from last season are crumbling. They're under-performing, they're not responding to him. I've said he's the best manager but his players are not listening to him. He's now got major, major problems at Chelsea, particularly in the dressing room."
Sunderland
Former Newcastle and Tottenham midfielder Jermaine Jenas: "I saw a completely different side to Sunderland on Saturday. They were very positive and progressive. No-one was hiding. When they lost the ball, there was a different reaction, no-one had their head down. It was a side to them that we have not seen this season, so it was all positive on this occasion."
Newcastle
Shearer: "There's a fragility and a losing mentality about Newcastle. It doesn't hurt enough. You can't capitulate like they did on Saturday. To be so bad in the second half - that can't happen. That losing mentality can't be accepted. Before long they will be relegated if they keep playing like that."
Aston Villa
Shearer: "It's worrying when the manager says it's getting worse. Defensively against Stoke they were really poor. It's a worrying time for Villa."
What the statistics say
Chelsea
Jose Mourinho has lost five of his past 10 Premier League games. Before that he had lost only five of the previous 59.

This is Chelsea's lowest points total after eight games in a top-flight season since 1978-79.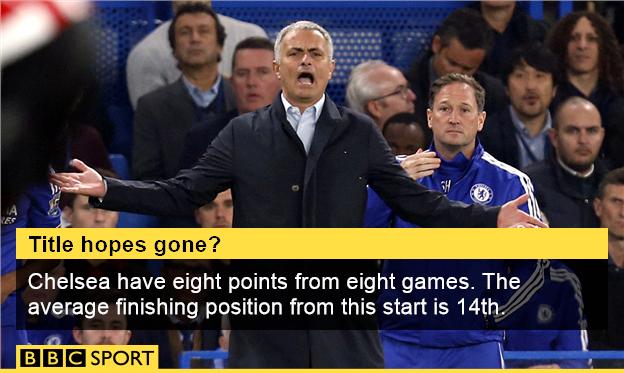 Liverpool
Liverpool have just one win in their past eight Premier League away games, netting a total of five goals in the process.

Brendan Rodgers' side have taken 19 points from their past 16 league games.
Sunderland
Sunderland have gone 10 games without a win, the longest current run in the Premier League.

Black Cats boss Dick Advocaat has seen his side take 15 points from 17 league games.
Newcastle
Steve McClaren has won just two of his past 21 league games as a manager.

Newcastle have won just one of their past 19 Premier League games.
Aston Villa
Villa have picked up just one point in their past seven Premier League games.

Tim Sherwood has now lost as many Premier League games (19) as he has won (19).
Will the managers be given time?
Chelsea
BBC Sport chief football writer Phil McNulty: Chelsea manager Jose Mourinho finds himself in uncharted territory. The coach who has known little other than success is suddenly having to take lessons in crisis management as the reigning champions appear to be in meltdown.
Is Mourinho actually under threat? If it was anybody but 'The Special One', owner Roman Abramovich might be ready to pull the trigger - surely not in this case.
Chelsea, who lost 3-1 at home to Southampton on Saturday, are suffering crises of form and personnel in all parts but could they seriously find anyone better than Mourinho to cure their ills?
And, crucially, Mourinho's relationship with Abramovich remains intact, unlike in 2007. One proviso - Chelsea's owner does not stand for long spells of poor form, no matter who is in charge.
Verdict: Safe, but Mourinho needs to show he can manage a team out of the bottom part of the table, not simply sustain them at the top.
Liverpool
McNulty: Liverpool manager Brendan Rodgers has been under intense scrutiny after suffering a summer review of his position by owners Fenway Sports Group - and is suffering pressure once more after an indifferent start to this season that has brought open hostility from supporters at Anfield.
Rodgers looks to have reached the stage where his prospects are assessed on a game-by-game basis and he may have reached the ultimate pinch point with the Merseyside derby against Everton at Goodison Park.
The Northern Irishman has been in defiant mood, but with many fans disaffected and performances mediocre he needs some big wins in a tough run of games.
Verdict: Under serious pressure and more significant losses may leave FSG with a decision to make.
Sunderland
McNulty: Sunderland head coach Dick Advocaat made the mistake of not quitting while he was ahead.
After saving the Black Cats from relegation last season, he changed his mind about leaving and came back to preside over a winless start to the season, leaving him all but gone.
Verdict: When a manager says he has made a decision on his future but will not say what it is, that does not usually mean he is staying. All over for Advocaat.
Newcastle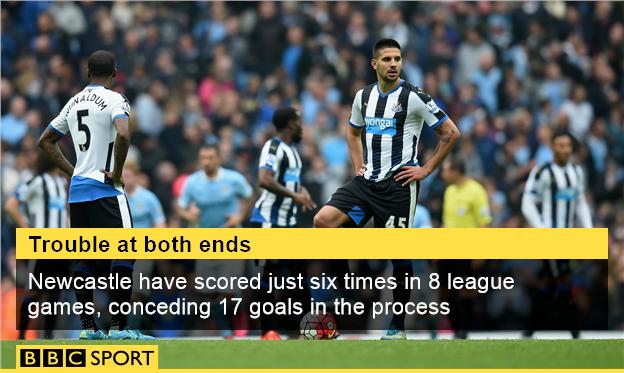 McNulty: Newcastle boss Steve McClaren needed a fast start after an appointment that was greeted with a wave of indifference on Tyneside - but still no Premier League win, bottom of the table and on the back of a 6-1 thrashing at Manchester City, it has been a wretched start.
Sure to be given time by owner Mike Ashley after heavy summer investment, and the ire of the Toon Army appears more focused on the boardroom than the technical area.
Verdict: McClaren needs to get wins on the board very quickly but is probably safe for now as Ashley will not be rushed into rash decisions on his future, or pressured by fans. May change if they show no signs of moving away from the bottom.
Aston Villa
McNulty: Aston Villa boss Tim Sherwood arrived in succession to sacked Paul Lambert in a blaze of positivity, helped by a run to the FA Cup Final, albeit a thrashing by Arsenal, and Premier League safety.
Since then they have lost key men Fabian Delph and Christian Benteke - and despite heavy inward investment Sherwood is now singing from a different songsheet after he announced Premier League survival is the only goal.
Verdict: Heard the hostility of the Villa Park crowd after a 1-0 defeat to Stoke City on Saturday but still very much owner Randy Lerner's man, helped by the fact he is not the first manager who has had to try and lift the club out of this position in recent years.