Arsenal: Arsene Wenger defends David Ospina from criticism
Last updated on .From the section Arsenal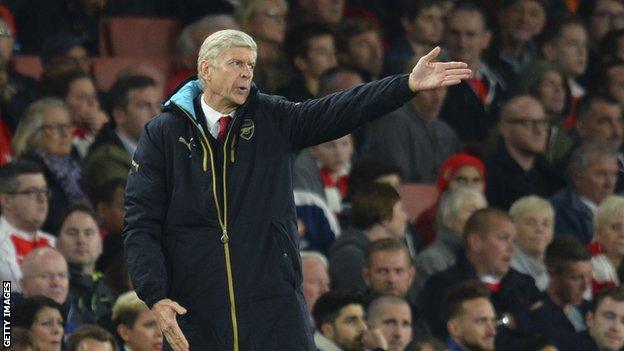 Arsenal manager Arsene Wenger has defended David Ospina, describing the recent criticism of his goalkeeper as "not analysis of football".
Ospina dropped a corner into his own net as Arsenal lost 3-2 to Olympiakos with Petr Cech on the bench.
Tuesday's second consecutive Champions League loss leaves Wenger's side in danger of failing to reach the last 16.
"To kill a player like Ospina, I find that just sensationalism. This is a top, top quality player," Wenger said.
"If it is combined with real analysis of numbers that justify that, I will say: 'OK, they are right.' But just because one guy on the television says something, everybody says exactly the same.
"I don't agree with that. It makes me angry because I think it is unfair to the player."
Speaking at Friday's news conference before Sunday's home match with Manchester United, Wenger had already called the press "boring" after getting involved in a row with a journalist over team selection.