John Terry: Jose Mourinho the best manager for Chelsea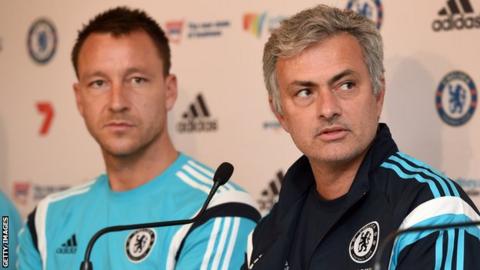 Chelsea captain John Terry says manager Jose Mourinho is the best man to help them recover from their miserable start to the season.
Mourinho said he would not quit after Saturday's 3-1 defeat by Southampton at Stamford Bridge, which left Chelsea 16th in the table.
"If anyone is going to get us out of this hole it is going to be Jose Mourinho," said 34-year-old Terry.
"We have the best manager, who we remain behind, and we remain together."
Southampton came from a goal down to condemn Chelsea to their fourth defeat in eight league games this season.
Mourinho said: "If the club want to sack me they have to sack me because I am not running away from my responsibilities or my team."
Terry, named in the starting line-up against Southampton for only the second time in six matches in all competitions, said: "We are looking low on confidence.
"But we have a big group of players in that dressing room and we need to stand up, which we will do.
"We must win at home to Aston Villa after the international break, which is maybe a good opportunity for players to go away and clear their heads and come back after that and really kick on.
"Once you can get one win you build on that."
Mourinho led Chelsea to the Premier League title in 2004-05 and 2005-06 in his first spell in charge, and again in 2014-15.