Manchester City Women will return 'fitter, better and stronger'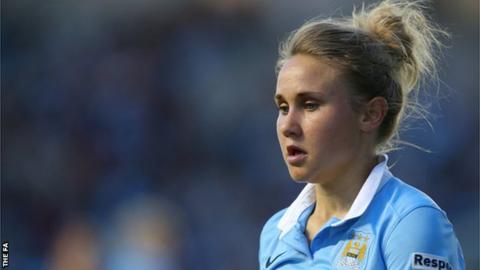 Manchester City midfielder Isobel Christiansen says the club will return a "stronger" side after being pipped to the Women's Super League One title.
Chelsea claimed the league trophy for the first time on Sunday, with City finishing two points behind.
However, their second place finish guaranteed the club Champions League football for the first time.
"We've proven that we are ready to compete in Europe next season," Christiansen told BBC Sport.
"We're only going to strengthen throughout the pre-season stage and we'll be back fitter, better and stronger."
City won eight of their final nine league matches - including their 2-1 win over Notts County on the final day - to take the title race all the way.
"There's a slight hint of disappointment that we haven't won a trophy," manager Nick Cushing said.
"But I said at the start of the year there's four trophies on offer, Champions League qualification being one of them and we won that.
"It means everything to get Champions League in our second year.
"In our third year we'll have grown a bit more, we'll have evolved and we'll have more experience.
"We'll be back next year to work harder and be better."