Eastleigh fan's managerial 'application' goes viral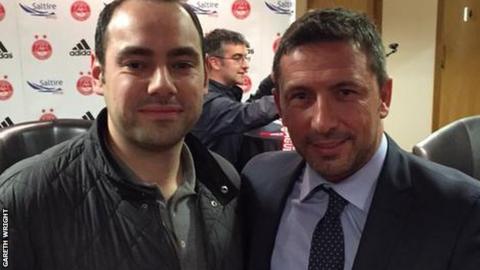 A fan of a National League club has been stunned by the response his "application" for the managerial vacancy has had on social media.
Eastleigh have had enormous interest in the post since Richard Hill resigned last month after a run of four defeats in five games.
An eight-strong shortlist has been drawn up and the club expect to complete interviews by Thursday.
But one applicant who has not had a call back is a 36-year-old married oil and gas industry planner from Inverurie in Scotland.
Gareth Wright and his friends, regulars at the town's Black Bull pub, decided in the summer to each adopt a National League side for the season.
Wright, originally from Newport, Isle of Wight, but now an Aberdeen season-ticket holder, contacted Eastleigh upon hearing of Hill's departure.
The reason lay in the rules behind the group's adoption of clubs. All agreed to certain conditions, one being if the manager left, they would have to apply for the job.
"The others were that we had to buy a team shirt and learn some of the club's songs," he told BBC Radio Solent.
"Once I saw Richard Hill had left the job, I was prompted to write an application. I sent an email, took a picture of it and sent it on."
Within hours of sending the picture to a friend, #gazforeastleigh was born and various south-coast sporting celebrities were being asked to endorse the application.
Eastleigh chairman Stewart Donald told BBC Sport more than 70 applications were received for the job, including four from managers with international experience, 15 from overseas and 40 from candidates who have worked for Football League clubs.
Wright offered time spent on computer games Fifa and Football Manager as relevant background.
"I have picked up many relevant management skills and believe I could be a valuable asset to your club," his application said.
It continued: "With great aero-links between Aberdeen and London, the commute wouldn't pose too much of a problem for me."
Wright admitted he is yet to attend an Eastleigh game, but his friends are already planning a trip to the Silverlake Stadium before the end of the season.
"We did have four or five applications like Gareth's," chairman Stewart Donald said.
"In what is quite a serious process, it is nice to get a few like that as it lightens the mood.
"Of all the Scottish people who applied, his was certainly the best."
Caretaker manager Chris Todd is among those set to be interviewed as well as two managers currently in other jobs.