Emma Hayes: Chelsea boss says WSL not 'second-class' football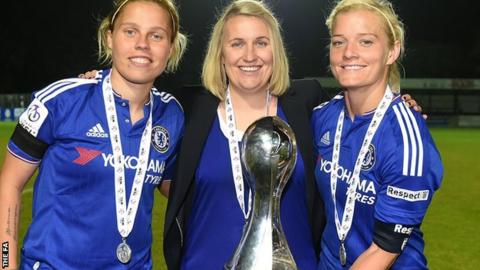 Chelsea Ladies' double-winning manager Emma Hayes says the women's game is no longer treated as inferior football.
Hayes, 38, the only female manager in the top flight this season, guided Chelsea to their maiden Women's Super League title on Sunday, having collected the Women's FA Cup in August.
"We're no longer just second-class citizens, anywhere in women's football anymore," Hayes told BBC Sport.
"Women are not only welcome at Chelsea, but we breed champions here now."
Chelsea men's captain John Terry, who is also president of the ladies club, was in the stands at Staines Town to see the Blues get over the line in the title-deciding win over Sunderland.
Hayes said the title win, which came 23 years to the day after Chelsea Ladies played their first game, resonated across the entire club.
"The way things are reported in the news, how important it was for Chelsea Ladies to win, to play our part in the club," she said.
"Who knows, it'll be about us sharing our best information, to pass on to our boys teams and our men's teams."
2,710 reasons to celebrate
With Reading boss Kelly Chambers - the only female boss in WSL 2 - winning promotion to the top flight, and Laura Harvey in charge of American National Women's Soccer League runners-up Seattle Reign, it has been a fortnight of great success for female English managers.
When asked if leading Chelsea to the the domestic double was made more special for being the only female manager in the top flight, Hayes said the state of the women's game was all she was concerned about.
"The first question I asked is 'what is the attendance?' I care about the game, I'm from the women's game and I think for those of us that have been involved with 10 fans on the side line, to now see 2,700 fans, a brass band, two mascots, scores of young men down here - forget just the scores of just young females - that is what women's football is about," Hayes told BBC 5 live sports extra.
"No one is going to put women's football down anymore. This is a sport that is to be reckoned with. We are going to get more and more recognition with the more success we have on and off the pitch."
The crowd of 2,710 at Staines Town on Sunday was a club record and capped a season of record growth in attendances, with Chelsea enjoying a 168% spike in spectator numbers this season.
'The other Special One'
Hayes returned to England to take over Chelsea feeling like "a stranger" in her own country after her time in the United States where the women's game enjoys a higher profile.
From finishing second bottom in her first term at the helm, Hayes would guide Chelsea toward Champions League football for the first time at just her second attempt and clinch the title in her third year at the club.
Camden-born Hayes was instrumental in bringing Eniola Aluko back to the club and brought captain Katie Chapman and defender Gilly Flaherty to the club, having previously worked with both at Arsenal when she was assistant manager at the Gunners.
"Emma is amazing," Flaherty said. "This one is for her.
"When you win, you just want to go to her and give her a hug, because you can just see it in her eyes.
"She came here three years ago with a dream and a vision for this club.
"She is an incredible manager and until you play underneath her, I don't think you understand how powerful she is and how motivational she is.
"She understands her players and how to get the best out of them. She's one of the best managers I've ever played under and hopefully she stays at Chelsea for many years to come."
No repeat of painful 2014 finale
Tears flowed when Chelsea missed out on the 2014 WSL 1 title on goal difference to Liverpool.
But it is that moment of despair that Hayes used to inspire her players to first win the FA Cup and then onto the league title.
"I have to be reminded of that day. That day is what has driven us on," Hayes told BBC 5 live sports extra.
"Pain and disappointments are what drives us on to winning. I've got a great dressing room and it is not to be undersold.
"Great characters make great teams, it is not always about having the best 11 on a piece of paper - it is about having the best pieces that fit together that work as a collective."