Eniola Aluko column: Gerrard story means I won't take title for granted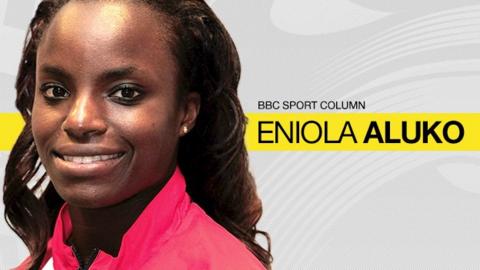 Steven Gerrard's new autobiography has made fascinating reading for me over the last few weeks and made me realise that winning the Women's Super League title with Chelsea is an achievement I will never take for granted.
The former Liverpool skipper is one of the best English players of his generation, but in his book he lays bare the pain of the 2013-14 Premier League season, when his slip against Chelsea cost the Reds the title.
It is hard to believe that such a legend has never won the league, but it is a void I can identify with, having agonisingly missed out with Chelsea last season and coming close with Birmingham, Charlton and St Louis in the United States.
You will often hear players saying flippantly that winning silverware is "a dream come true" but, after winning the first league title of my career - and my first double after the FA Cup victory - I am in a dreamy state.
Gerrard's story is a reminder that you have to value your success. You can go through your whole career and not win the league so, after the best season of my life and finally achieving something that has taken 14 years, I am still smiling like a Cheshire cat.
Chelsea men's captain John Terry was among those who saw us beat Sunderland 4-0 on Sunday to win what was also a first league title for Chelsea Ladies. John is a president of the club and said that watching us lift the trophy gave him the same goosebump feeling as when he lifted the Premier League trophy last season.
Our next target is to take our success into the Champions League, which starts on Thursday against Glasgow City.
The quick turnaround is because we qualified from last season, when we finished second in the league behind Liverpool after that final-day heartache.
But it's fantastic we can soak up that famous Champions League music under the floodlights so soon and use the expertise of our manager Emma Hayes to tackle some of the game's best teams.
Having joined the club in 2012, Emma has been pivotal in shaping where Chelsea Ladies are today and I wanted to shed a bit of light on how she has turned us into double winners and how her and her team of staff prepared us for the title-sealing victory.
She was the reason I left Birmingham to join Chelsea three years ago and I simply felt that if I was going to win any trophies in England it would be under her.
Back in 2012 we finished second bottom of the WSL and there wasn't really a winning culture like we have now. It was all 'turn up twice a week' and a bit too nicey, but did I believe we could win the league? Yes I did, because I knew Emma had a plan.
Step one - recruitment
Emma knew it would take time to build a title-winning team, but when I spoke with her she has always had belief and each year she has recruited the right kind of player to push for honours.
Last year we just missed out, but she has recruited very smartly again this season, bringing in the likes of striker Fran Kirby, centre-back Niamh Fahey and goalkeeper Hedvig Lindahl to find the final pieces of the jigsaw.
Step two - keeping players fit
Emma is a big believer in periodisation, which basically involves making sure that training is specific to our needs and that we don't train too much, or overload.
It sounds simple but the philosophy ensures that players are out on the pitch more often and it is no coincidence that we have the best record in the league when it comes to injury prevention. We have also remained fresh to sustain the quality of our performances over the course of the season. Other teams have not been able to do that so it has given us an advantage.
Step three - meticulous preparation
Each week our training is geared to our upcoming opponents and while we always concentrate on what we can do in a detailed game plan, we will also know their key threats.
So ahead of the Sunderland game the staff prepared videos for our defenders on their top scorer Beth Mead, who has had a fabulous season. I'll watch videos analysis of their full-backs, whether they like to get tight, for example, whether they like a tackle or whether they play with their left or right mostly. We also might look at whether the defence plays a high line or not.
Step four - motivation
Come game day, Emma is not one of those managers who rants and raves. I think I have seen her do that once or twice in the three years I have been at Chelsea and I joke with her that she should lose it a bit more often. But she knows how to press the right buttons.
That was the case before we played Sunderland on Sunday. Emma delivered a powerful speech where she talked about how we had reached all of our long-term goals, and winning the league would be the icing on the cake. She talked about all the fans out in the stands at Staines - we set a new club record of 2,700 last Sunday - and she talked about how it was 23 years to the day that Chelsea Ladies had their first game. The message she delivered gives me goosebumps just thinking about it.
We also had a very powerful video, which our analysis lady Steph put together, collating all our best goals, best saves and great performances of the season. So we were hugely inspired to go out and win the game.
Step five - application
Our plan was to nullify Beth Mead and score early to settle our nerves and as it turned out, I set up Ji So-yun for the first after seven minutes. Fran Kirby missed another chance in the first half but as usual Emma made a few clear tactical points at half-time and once we scored again early in the second half, we just had to make sure we did not do anything stupid.
The third and fourth goals made it a perfect end to the match, reversing the result we had up at Sunderland earlier in the season, which actually proved a blessing in disguise.
Come the final whistle, I think you could see on TV how ecstatic we were to win the league. It was pure elation.
As much as Manchester City had a strong end to the season, and finished second by two points after letting a lead slip at Notts County last month, we still would have won on goal difference.
We were strong across the entire season and that is the best part about it: from the founder of Chelsea Ladies to all the hard work that Emma, the coaching staff and the players have put in over the last three years, we feel like we deserved it.
England and Chelsea forward Eniola Aluko was speaking to BBC Sport's Alistair Magowan.