Doncaster Rovers Belles to go full-time with new training ground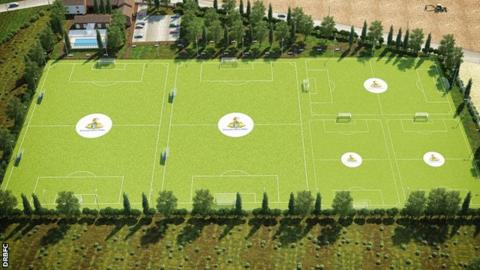 Doncaster Rovers Belles are set to offer a number of their players full-time contracts after securing promotion to Women's Super League 1.
They will also build a new multi-million pound training complex.
The complex will be based near Bawtry and feature five grass or artificial pitches.
Commercial director Carl Lygo said: "We are building a long-term legacy for women's football in South Yorkshire at the highest level."
Work on the site, which will be named Belle Vue Belles and feature a physiotherapy room, indoor pool, ice baths and a gym, is set to begin imminently.
Belles say it will be the first dedicated elite women's training facility in the UK.
Doncaster were relegated to WSL2 in 2013 as part of the league expansion, following a 22-year stay in the top tier.
However, the six-time FA Cup winners and two-time Women's Premier League champions secured promotion to the top flight in September.
About 10 players will be given full-time contracts, the first in the club's history.
Director of football Julie Chipchase said: "Teams such as Manchester City, Chelsea and Arsenal have all shown the huge impact full-time training gives to both individuals and the team.
"This will not only allow the players the same training opportunities, but gives the club the best possible chance to compete at the very top level."
Lygo, who helped fund the new training ground with his wife Faye, the club's chair lady, said: "I wanted to put something back into my home town to help the name of Doncaster be recognised around the world as a leader in women's sport.
"The facility will enable the club to have its own standalone operation and they will never again have to face the threat of insolvency."