Issa Hayatou takes temporary charge of Fifa
Last updated on .From the section Football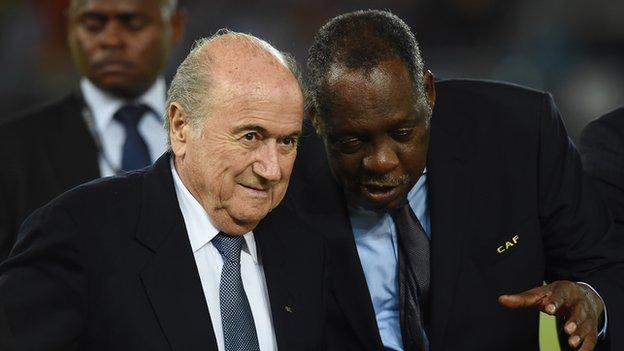 Confederation of African Football president Issa Hayatou has taken temporary charge of Fifa after football's world governing body suspended its president Sepp Blatter.
The Cameroonian, 69, is Fifa's most senior vice-president and has been in the role since 1992.
"I will serve only on an interim basis," Hayatou said in a statement.
Blatter announced in June he would step down and Fifa set presidential elections for 26 February.
Liberia FA chief and Fifa presidential candidate Musa Bility's reaction
Fifa has taken a "giant step" towards cleaning up the sport by suspending Blatter and other top officials
Hayatou has "sufficient experience" to steady the Fifa ship "if he wishes to do that"
"We are in the process of changing football for a lifetime, and no-one in football has a right to tamper with that at this point"
Hayatou added: "A new president will be chosen by the Extraordinary Congress... I myself will not be a candidate for that position.
"Until the Extraordinary Congress, I pledge that I will dedicate my best efforts to the organisation, the member associations, our employees, our valued partners, and football fans everywhere.
"Fifa remains committed to the reform process, which is critical to reclaiming public trust. We will also continue to cooperate fully with authorities and follow the internal investigation wherever it leads."
Hayatou has faced allegations of corruption in the past, which he has denied. He was reprimanded by International Olympic Committee in 2011 over allegations he accepted bribes for World Cup TV rights in the 1990s.
He was elected Caf president in 1988 and earlier this year he controversially oversaw changes to the body's rules on age limits so he could continue into the next decade.
Hayatou has also faced allegations of accepting bribes related to Qatar's 2022 World Cup bid.
Trio banned from football activity
It is allegations of corruption that have torn Fifa apart over the last few months and the organisation on Thursday provisionally suspended Blatter, secretary general Jerome Valcke and vice-president Michel Platini for 90 days.
The punishments were handed out by the ethics committee of football's world governing body, which is investigating the three men.
It also banned ex-Fifa vice-president Chung Mong-joon for six years.
"The grounds for these decisions are the investigations that are being carried out by the investigatory chamber of the ethics committee," Fifa said in a statement.
The three are banned from any football activity in the interim. They deny any wrongdoing.