Wales reach Euro 2016: What it means to the Welsh people
By Dewi Hughes
BBC Wales Sport
Last updated on .From the section Welsh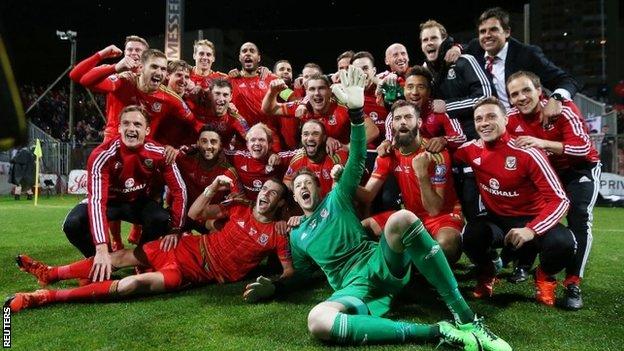 There have been abject failures and agonising near misses.
But now, for the first time since 1958, Wales will take their place at a major international tournament again after they secured their place at Euro 2016, despite a 2-0 defeat in Bosnia-Herzegovina.
It brings an end to almost six decades of pain for followers of Welsh football. Here, BBC Sport talks to some of those most affected by Wales' struggles over the years and finds out what reaching the Euros means to them.
Roger Speed, father of former Wales captain and manager Gary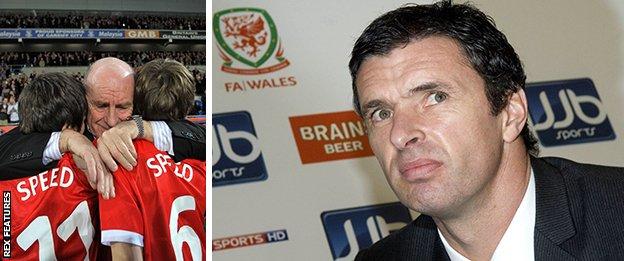 "I'm absolutely delighted Wales have finally done it. And it gives me immense pride that Gary's name has been mentioned - by the players and the fans - so often along the way in this qualifying campaign.
"I was down in Cardiff for the draw against Israel last month and I've never experienced an atmosphere like it. The fans started singing Gary's favourite song - I Can't Take My Eyes Off You - and then chanted his name. It really got to me. The hairs on the back of my neck stood up. I was in tears.
"Watching this team has given me so much pleasure and Chris Coleman deserves a huge amount of credit for what he's achieved. It was so difficult for him to follow Gary but he's done a great job. The spirit in the side is something very special.
"I'm actually an Englishman, born in Chester. But Gary's influence has certainly turned me into a Wales fan - I look out for their result before England's these days. I've always got a daffodil inside my coat pocket. And there's no doubt about it, I'll be in France to support them next summer.
"Like a few of the players have already mentioned, qualification is a fitting tribute to what Gary put in place with this group of players. There's no doubt he would be immensely proud of their success. I know he's been watching from above and cheering the team on. I'd like to think he's been an inspiration."
Gary Pritchard, long-suffering Wales fan from Holyhead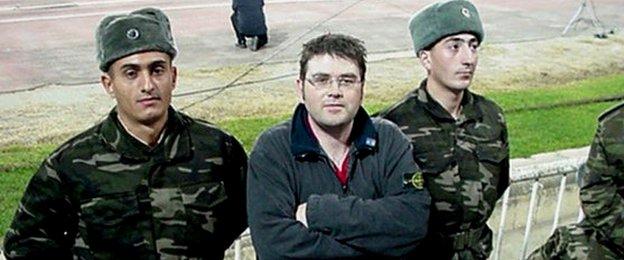 "I wouldn't dare to think how much money I've spent watching Wales away games. It all started at Royal Dublin Showground against the Republic of Ireland in 1992 and it's taken me all over Europe and the world since then. It's a massive part of my life.
"There have been some real horror shows along the way - the 7-1 defeat in Eindhoven in 1996 was a real low point - but it's all been worth it. For me, you have to taste the bitter to appreciate the sweet. And this is certainly as sweet as it gets.
"The game in Bosnia-Herzegovina was my 51st away cap, as it were. We weren't quite sure what to do at the final whistle when we finally made it to France because we'd never been in that position before.
"The closest we'd come was the Euro 2004 play-off defeat by Russia, and we were all in tears at the end. We are 12 years older, and supposedly wiser, but you wouldn't have guessed it at the final whistle in Zenica. We were in bits, even though we're all in our late 40s and early 50s. That's what football does to you.
"There was a gang of eight of us out in Bosnia and we've travelled the world together. It's been an indescribable experience, and it means so much to us to have finally qualified - we've achieved something that deep down we all doubted would ever happen.
"We've spoken briefly about what it's going to be like in France. I don't think we can even come close to imagining how special next summer will be."
Paul Bodin, full-back who missed a crucial penalty in 1993 when Wales were one win away from World Cup qualification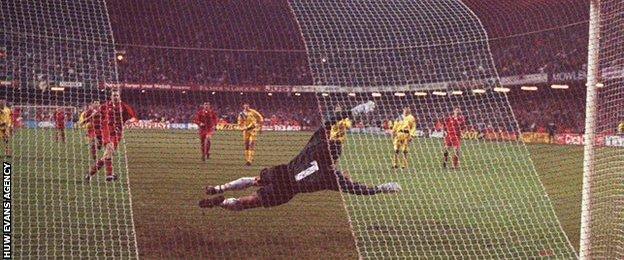 "I'm remembered for the penalty miss against Romania when we needed to win to qualify for the World Cup in 1994, and it's a relief for everyone to finally qualify.
"We got within touching distance in 1993 with a team of world-class players like Ian Rush, Mark Hughes, Dean Saunders, Ryan Giggs and Neville Southall and it's a shame they never had the opportunity to play in a major tournament. But this group, which has such a great spirit and plenty of class players, will be remembered as the ones to finally do it. They are history-makers and they've lifted a huge weight off the nation's shoulders.
"I take great pleasure in this team's success, but it doesn't change anything in terms of the disappointment of missing that penalty against Romania. I made history for the wrong reasons, certainly in Welsh eyes. But it happened, there's nothing I can do about it - it will always be part of history.
"I've been involved with the coaching set-up for Wales' age-grade teams for just over two years now and I've seen all the hard work that's gone on underneath the senior squad, and how it's all connected.
"The senior squad reaching the finals will have a significant impact on what we do. It could, for example, make it easier for us to recruit players who have dual nationality. We've lost out on a few players in the past to other nations but that could stop now."
Phil Blanche, Press Association football journalist
"My introduction to covering Wales should have served as warning for what was to follow.
"I was working for the Pontypridd Observer when Wales needed to beat Romania to reach the 1994 World Cup. Paul Bodin missed a crucial penalty and it was a decade until Wales came as close to qualifying for a major tournament.
"Three years after the defeat by Romania, I witnessed one of the lowest points of all covering Wales. A strong Netherlands side completely outclassed Wales 7-1 in Eindhoven, cruelly exposing Bobby Gould's limitations as an international manager.
"Such was the chaos in the Wales defence, the Dutch could have scored 12 or 13. When they went 6-1 down, one journalist turned to me and asked: 'Is this a proper international team?'
"The Euro 2004 play-off loss to Russia was another near-miss that really should have been taken. We all thought we were on our way to Portugal after the first-leg goalless draw in Moscow, but it was another bitter disappointment.
"Apart from those two missed opportunities, it's been a case of being out of contention halfway through every campaign and the fans losing interest.
"You start to think it's never going to happen for Wales. It can be so disheartening and soul-destroying.
"But this group have finally done it, and they deserve immense credit. The key for me has been the team unity. They are more than just team-mates, they are friends who have come through youth teams together."
John Hartson, former Wales striker and coach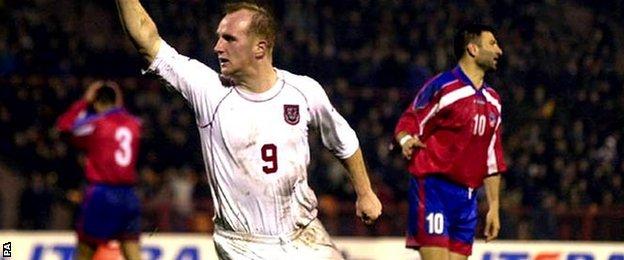 "I had 10 years of wearing the number nine shirt and I was the proudest man ever playing for Wales because I followed in the footsteps of John Charles, Trevor Ford, Ian Rush, Mark Hughes and Dean Saunders.
"I feel extremely proud that this group of players has achieved something that we failed to achieve. We had our chances but we failed.
"I'm not envious at all. We will be immensely proud in France. We will have our Welsh scarves around our necks, and we will sit in with the fans or doing media commitments.
"I know how much hard work has gone into it because I was involved as assistant coach to Chris Coleman at the start of the previous World Cup campaign and we had some really difficult nights. We lost away from home to Serbia 6-1 in September 2012, and the lads were on their knees, really struggling.
"Chris had taken over from Gary Speed, who'd had 10 games in charge and lost four of his first five, then won four of his next five.
"When Gary was taken away from us, the whole country was in mourning and these players were realty affected by it. So for Chris to have come in and picked the team up and to have moved forward the way they have has been magnificent."