Premier League offers excellent value - Richard Scudamore
Last updated on .From the section Football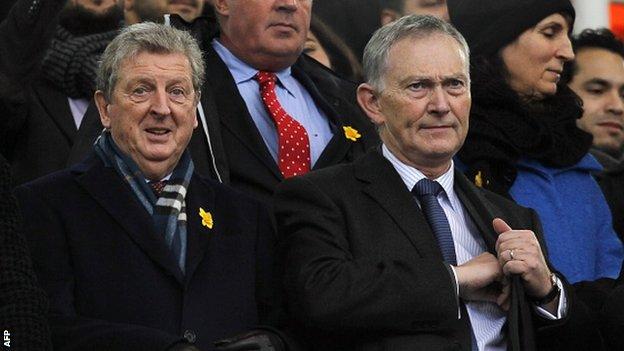 Season-ticket holders of top-flight clubs are getting "excellent value", according to Premier League executive chairman Richard Scudamore.
The Premier League has released data which it states calculates the average price paid by adult season-ticket holders is £32.50 per game.
Supporters from all top-flight clubs united last weekend to protest about the cost of ticket prices.
"I think many will be surprised by the value clubs offer to fans," he said.
"The 66% of match attenders who are season-ticket holders are getting some excellent value from their clubs with an average of less than £33 per match."
Scudamore claims that many of the average prices quoted are "misleading" and believes having full stadiums is "hugely important" for the league's appeal.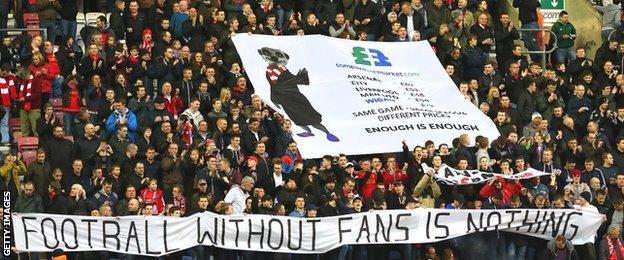 The BBC's annual Price of Football Study - the most comprehensive analysis of prices in British football - will be published next Thursday, 15 October across the BBC.
The study, now in its fifth year, analyses adult match-day and season-ticket prices from 240 clubs across 13 leagues and also includes the prices of junior and adult replica shirts, programmes, a cup of tea and the cost of a pie.
'Long-term attendance prospects healthy'
Research by the Premier League claims the average price paid for a junior season ticket for 2015-16 is £10 per match.
"The concessions clubs offer are bringing a new generation of supporters into the grounds," Scudamore added.
"At an average of less than £10 you can see why there is a growing number of junior season tickets being sold, which is clearly healthy for long-term attendance prospects."