Scotland 2-2 Poland: Strachan's focus on team, not future
Last updated on .From the section Football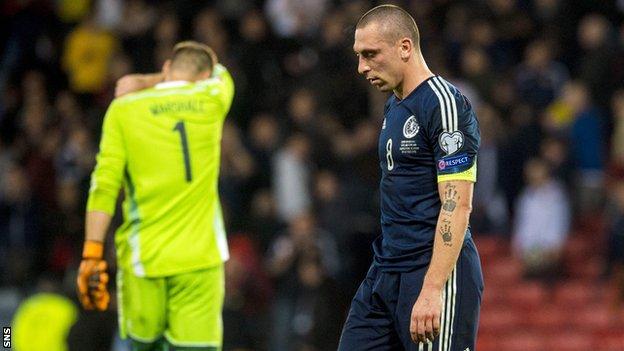 Scotland coach Gordon Strachan insisted it would be "wrong" to talk about his own future after his side's Euro 2016 hopes were ended by a draw with Poland.
A stoppage-time goal by double scorer Robert Lewandowski secured a point for the Poles and ensured the Scots cannot reach the play-offs.
Strachan's contract ends after Sunday's game with Gibraltar and he was asked if he had another campaign in him.
"That is really unfair as there are guys in there hurting," he replied.
"And for me to talk about myself is wrong. They're the priority at the moment, those guys in there and my coaching staff.
"To talk about me is all wrong, I leave that to other people but for me to speak about it is all wrong. I have people in this building hurting at the moment and I need to look after them."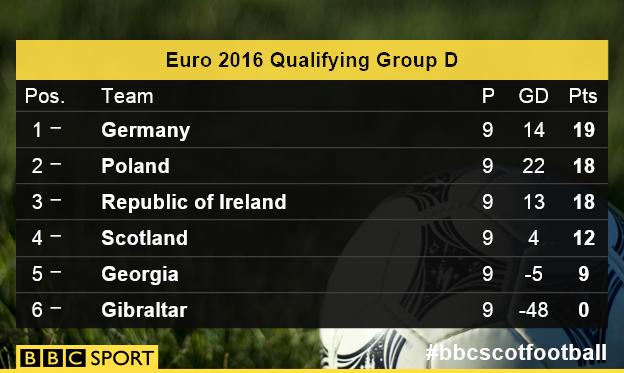 However, former Coventry City, Southampton, Celtic and Middlesbrough boss Strachan did hint at continuing in the role.
"Over the year [of Euro 2016 qualifiers there have been] a couple of offside goals, a couple of horrendous deflections - we've had to put up with a lot and to overcome that then we'll probably have to be more clinical over the next couple of years," he said.
"I'm proud about the players. Hugely disappointed but not disappointed by anything else other than a couple of deflections and maybe the first [Lewandowski] goal might have been offside, I don't know.
"If I'm like the rest of the nation, I'm hugely disappointed for the players, seeing a group of lads giving as much as they can give. That's what I see at the moment.
"I actually feel a bit sorry for them, to put that much work into it, to score two wonderful goals.
"After working hard for a year and at the end of the year, something like that happens in the last seconds of a game. That's over a year's work.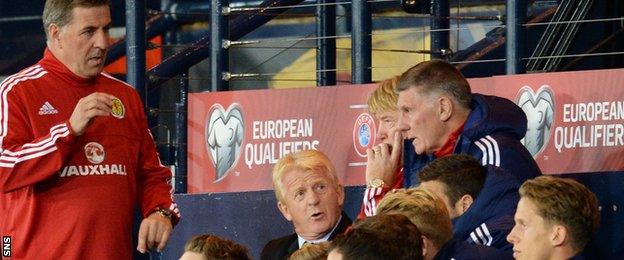 "I can't remember us getting any luck ourselves. Everything we've had to do has been earned, really earned.
"Against Germany [in the 3-2 defeat] they came back twice, they come back here and go in the lead - that's some going against some top, top players."
Impressive left-foot strikes by Matt Ritchie and Steven Fletcher gave Scotland a 2-1 lead and at that stage they were well placed to claim a play-off place, with Republic of Ireland scoreless against group leaders Germany.
Although the Irish took a winning lead against the world champions, Scotland would still have had a chance of reaching the play-offs going into Sunday's match against Gibraltar in Portugal.
But Lewandowski's scrambled leveller kept the Poles second in the group - level on points with Martin O'Neill's Ireland - and opened up a six-point gap over the Scots.
"You have to hold your hands up and say, 'well done'," said Strachan when asked about the result in Dublin.
"But we've played Poland and Ireland and not been beat."