Euro 2016 qualifying: Scotland's painful ending all too familiar

By Alasdair Lamont
BBC Scotland at Hampden
Last updated on .From the section Football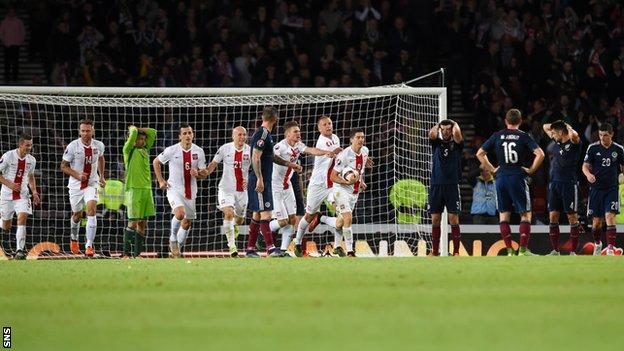 That gut-wrenching, tear-inducing sensation experienced by every Scottish football supporter in the final seconds of the game against Poland is, alas, a familiar one.
As one sage once put it, it's the hope that kills you.
Hope was what had overcome the Tartan Army and, let's be honest, the nation's media too as Gordon Strachan took over a punch-drunk Scotland squad and threatened to turn them into a group capable of returning to major competition.
Bright start
The early signs were promising, with wins home and away against Croatia at the end of World Cup 2014 qualifying, when all hopes of actually getting to Brazil had already been extinguished.
And so, despite the oft-repeated caveat of Group D being the toughest to get out of, this campaign was approached with a level of optimism.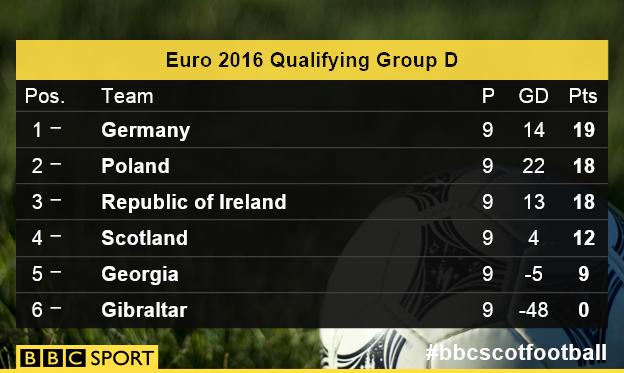 An opening-match defeat away to Germany did not stifle that optimism, with Scotland performing respectably and only losing by a single goal.
More ominous, perhaps, was the Republic of Ireland's victory in Georgia - a hint at the resilience of the Irish, which would come to be a theme of the group.
Nonetheless, Scotland progressed well, picking up a terrific point with arguably their best performance of the campaign in Warsaw.
That draw followed a few days after a narrow win at home to Georgia, although that success was tempered by the fact rivals Poland beat Germany on the same day.
Everything was still going to plan though when the Scots recorded what felt like a massive win over the Republic at Celtic Park and dispatched Gibraltar 6-1.
The country looked in good shape to qualify for a first tournament since World Cup '98.
Worrying signs
It wasn't until June and the return match with the Irish that the first signs of trouble emerged.
Scotland began that match poorly, unfathomably lacking the fight of the home side.
They went behind yet they rallied and earned a point - a good point given the performance - and that should have been a salutary lesson that if standards dropped, they could be punished.
How Thursday night unfolded in Group D
19:49 BST:
Robert Lewandowski puts Poland ahead in Glasgow, before the Republic of Ireland had kicked off against Germany.
1. Germany 20pts 2. Poland 20pts 3. Republic 16pts 4. Scotland 11pts
20:08 BST:
Mesut Ozil has a goal in Dublin disallowed for offside as the Republic struggle to contain Germany.
1. Germany 20pts 2. Poland 20pts 3. Republic 16pts 4. Scotland 11pts
20:32 BST:
Matt Ritchie equalises for Scotland with a stunning goal.
1. Germany 20pts 2. Poland 18pts 3. Republic 16pts 4. Scotland 12pts
21:03 BST:
Steven Fletcher puts Scotland ahead for the first time with another brilliant goal as they close in on third place.
1. Germany 20pts 2. Poland 17pts 3. Republic 16pts 4. Scotland 14pts
21:19 BST:
Shane Long stuns Germany with a goal to put Republic of Ireland ahead - and into the top two.
1. Germany 19pts 2. Republic 18pts 3. Poland 17pts 4. Scotland 14pts
21:35 BST:
With the last kick of the game, Robert Lewandowski scrambles in an equaliser for Poland - eliminating Scotland.
1. Germany 19pts 2. Poland 18pts 3. Republic 18pts 4. Scotland 12pts
But it went unheeded and a similarly lifeless start to the match in Tbilisi on this occasion resulted in defeat.
A improved performance at home to Germany followed but another defeat could not be prevented.
So, despite Thursday night's creditable display in the 2-2 draw with Poland, it meant qualification - even via a play-off - slipped from the Scots' grasp before Sunday's final match against Gibraltar in Faro.
The Republic of Ireland's ability to produce extraordinary results - such as the win over Germany, following their draw in the reverse fixture - rendered the fact Scotland had taken four points from them irrelevant.
It means Scotland supporters face the very real possibility of being the only set of fans from these shores not to have the chance to follow their team to France this summer.
Strachan's future
The big question now is whether Gordon Strachan should be given the opportunity to lead the team into the qualifying campaign for the 2018 World Cup.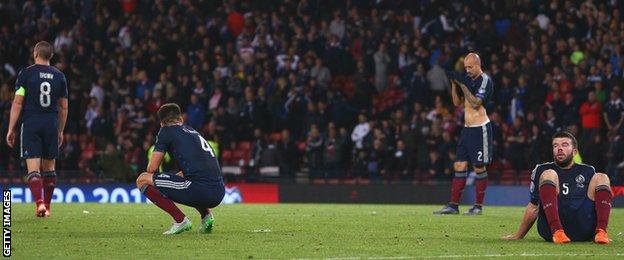 The Scottish Football Association has already indicated it would like to renew the manager's contract and Steven Fletcher and Scott Brown voiced what the majority of the players in the current squad probably feel when they stated their preference for Strachan to stay on.
Supporters are, anecdotally at least, less convinced, with some expressing bemusement at Strachan's recent selection policy - his reticence at giving a start to Leigh Griffiths being one example.
A significant number still back him, though, believing he has reinvigorated a group of players who appeared drained of belief and ability under Craig Levein.
Signs of improvement?
Have Scotland really improved that much since Strachan took over from Levein?
Intuitively, it feels like there has been an improvement in the team's ability to keep the ball under pressure and to counter-attack effectively.
But results have not dramatically improved. Scotland were drawn into Group D as fourth seeds and will finish fourth.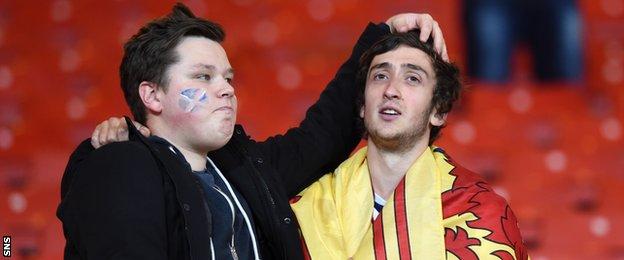 As Strachan pointed out, they are unbeaten against both Poland and the Republic, but by the same token, they recorded just one victory over the top three teams.
Strachan and his players also pointed to bad luck over the campaign, but the win at home to Georgia came as a result of a deflected goal - so fortune was not entirely against them.
Ultimately, Scotland have not quite been good enough, but there is some cause to think the optimism so evident just over a year ago will be carried into the next campaign.
For now, though, the Scotland fans will have to settle, once again, for watching a major tournament on television.