Euro 2016: Scotland legends join inquest after qualification failure

By Alasdair Lamont
BBC Scotland
Last updated on .From the section Football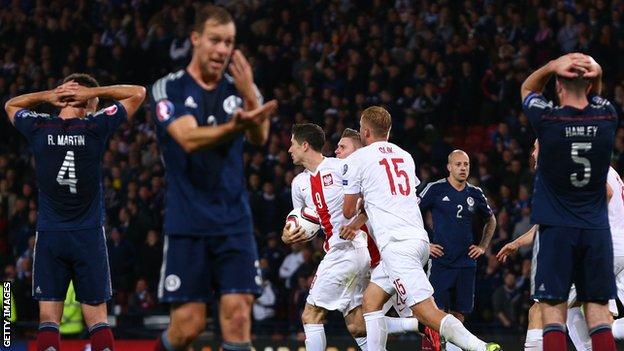 No sooner had the referee's whistle sounded to mark the end of the 2-2 draw with Poland - and with it, Scotland's prospects of reaching the finals of Euro 2016 - than the inquests were beginning into why the national team had failed once again.
The debate will be held from Hampden to the country's hostelries, fuelled by opinion from newsrooms and message boards, as the search for the elusive answer to an 18-year-old problem continues.
Everyone has an opinion following Thursday's Group D qualifier, but some carry more weight than others and BBC Scotland has sought the views of three of the most iconic players to grace the dark blue jersey.
Denis Law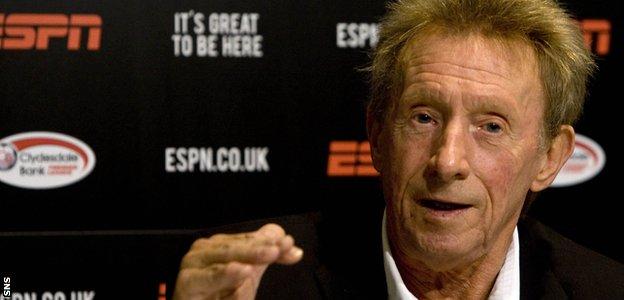 "I don't think this generation of players are really poorer than mine, or even those in the 80s or 90s.
"But teams are always looking for goalscorers. You need a goalscorer.
"I find with Leigh Griffiths you get something you don't get with the other guys.
"I thought he would have come on or started the game, but he will get a chance.
"We can take heart, too, from Northern Ireland and Wales.
"They've been off the rails for a long time, but now they're coming back."
Listen to Denis Law's interview with BBC Scotland
Kenny Dalglish

"I think you're off your head if you think you're going to get anybody better (than manager Gordon Strachan).
"It's always the manager that gets it, but why change the manager if you can't get a better one.
"From where we've been, it's a huge improvement to where we were.
"It was a difficult group to get out of, so the disappointment should be over-ruled by common sense.
"The game we lost in Georgia has turned out to be important, but one bad game out of nine isn't bad."
Alex McLeish

"We should be looking at the grassroots, trying to improve that, because that's going to help us to tournaments.
"The long-term plans should be about getting young Scottish players comfortable with a football.
"(In the short-term) this crop of boys are all very capable. They're playing in England, at a good level, but we still play against any European team and there's an element that their touch on the ball seems to be better.
"What we have to do is have a wee bit stronger mentality, a bit more confidence when we go away from home and take care of these results.
"Nobody thought Ireland would take four points from Germany, so they've produced some top-drawer performances based on a solid defensive strategy."