Michel Platini should no longer have FA backing - Robertson
Last updated on .From the section Football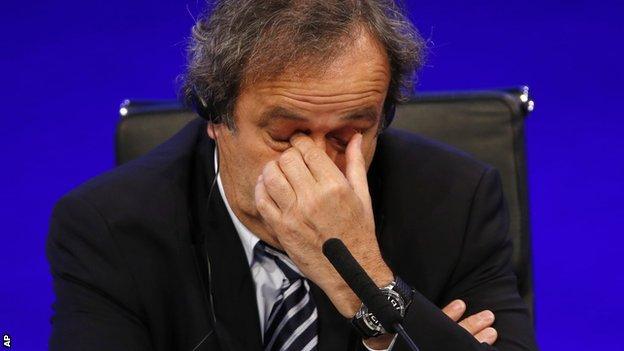 The Football Association should withdraw its support for Uefa president Michel Platini, according to former Sports Minister Sir Hugh Robertson.
Asked if the FA should "drop" the Frenchman, Robertson told BBC Radio 5 live: "I think they should, yes."
Robertson believes Fifa needs a "total clearout" by an external candidate.
Blatter and Fifa secretary general Jerome Valcke have been suspended along with Platini while corruption allegations are investigated.
They all deny any wrongdoing, with Blatter and Platini having appealed against their bans.
Robertson was part of England's attempt to host the 2018 World Cup, which was awarded to Russia in 2010, at the same time Qatar won the vote for 2022.
"This has been, even for seasoned Fifa watchers, a pretty dramatic week," he told Sportsweek.
After Blatter, Platini and Valcke were banned, International Olympic Committee president Thomas Bach said "enough is enough" and Fifa must "regain credibility".
"We always thought the ethics committee was a child of Blatter," said Robertson.
"To see that turn against him and his most high-profile deputy Platini and then, equally crucially, the president of the IOC say the whole thing needs substantive reform makes this a very important week.
"You have to have a total clearout. We are now at the stage where it is almost impossible for this to be done by somebody inside the organisation. They need to look for a high-quality external candidate.
"The worry must be that there are probably still some members of the Fifa global family hoping that this will wash over them and wash away and that's why it needs to be done externally."