Scotland: Willie Miller warns over 'celebrating failure'
Last updated on .From the section Scotland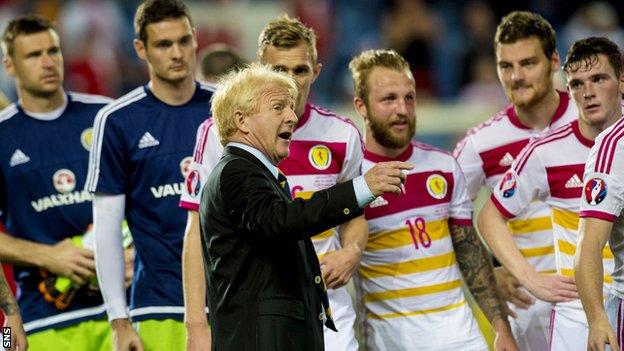 The Tartan Army are in danger of "celebrating failure," according to former Scotland defender Willie Miller.
Scotland ended their Euro 2016 campaign with a 6-0 thumping of Gibraltar to finish fourth in Group D - missing out on qualification.
"We've got euphoria tonight and in a way that saddens me too," Miller told BBC Scotland's Sportsound.
"We're basically celebrating failure. For me, this was the opportunity for any manager to qualify."
Gordon Strachan has yet to confirm whether he will remain as Scotland manager for their 2018 World Cup qualification campaign, saying he will have a "debrief" following the victory against Gibraltar.
Miller, who said he has been impressed by Strachan's efforts with the player at his disposal, has warned of the dangers of lauding failure to qualify for major tournaments.
"You've got to sit down, look through it and be honest with yourself," said the former Aberdeen and Scotland defender.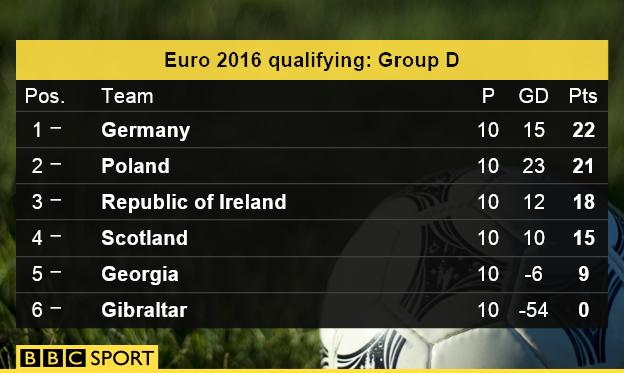 "The performance tonight was good and I just think that the Scottish fans are now used to not qualifying; that they grasp onto anything and they celebrate it.
"I'm not having a go at them in any way at all, I'd just like to see us getting to a major championships."
Miller added: "For me, this was the opportunity for any manager to qualify. Third place gets you a play-off spot and second place gets you automatic qualification - the best chance for any manager to qualify for a major championships. And we haven't been able to do it."
The Sportsound pundit said it was important for Strachan to believe he could get more from his players.
"What I would hate to see is all that enthusiasm and bonding going on just now, is that it turns sour," said Miller.
"We've seen it happen in the past - it turns sour in the next campaign because it doesn't get off to a positive start.
"If we don't qualify in the next campaign then that is failure - two qualification attempts from the manager and I wouldn't like to see that happening to Gordon because I think he has done a fine job with the players that he's got."