Euro 2016: Scotland players back Gordon Strachan despite exit
By Clive Lindsay
BBC Sport
Last updated on .From the section Scotland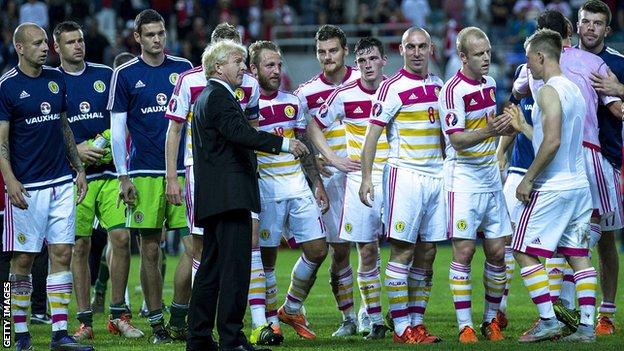 Rarely has a 6-0 victory seemed so insignificant.
Scotland's thrashing of a group of part-time footballers who had already conceded 50 goals in nine matches was never going to be in doubt.
It was billed as a potential coronation night in Faro when the computer handed the Scots an end to their fixtures against the European Championship debutants from Gibraltar.
But, instead of being crowned the qualification king, Gordon Strachan had to make do with a bitter sweet moment shared with the Tartan Army as Germany and Poland enjoyed the bliss of Euro 2016 qualification in front of their own overjoyed fans many miles north.
With their hopes of making the finals having been ended by a 2-2 draw four days earlier against the Poles, the national manager left everyone to agonise further about whether his reign will - and should - continue.
His loyal players, however, were united in their admiration for the man, the improvements he has made - and the fans who backed them throughout the campaign.
Where the campaign went wrong
Hull City left-back Andrew Robertson: "Everyone will look at the Georgia game. You get three points from them and you are in a very good position."
Bournemouth winger Matt Ritchie: "It might seem a little weak, but we didn't have a lot of luck - certainly on the three or four trips I've been on and in games when we got beat or didn't win."

Hull City midfielder Shaun Maloney: "The recent result in Georgia was obviously a big knock.
"I think that result put us in a very difficult situation and meant we had to rely on other teams while Ireland proved what a good side they have been and beat Germany."
On Gordon Strachan's future
Brighton central defender Gordon Greer: "First and foremost, we think he's done a good job and he's a good manager and that's ultimately the main thing.
"I've only played a part under Gordon, so I can't comment, but a lot of the boys have played under previous managers and think he's a fantastic manager and he's made for the role.
"Personally, I hope he stays on."
Andrew Robertson: "He's the man for the job. You see the fans singing his name and they appreciate his efforts and want him to stay.
"It is up to him now and hopefully he makes the right decision.
"He'll probably need time to think, but we're all hoping he stays on. It would be massive."
Matt Ritchie: "He's fantastic to work for. He gives you freedom to go out and express yourself.
"I think it shows how good he is with all the players wanting the manager to stay."
On disappointment and fan support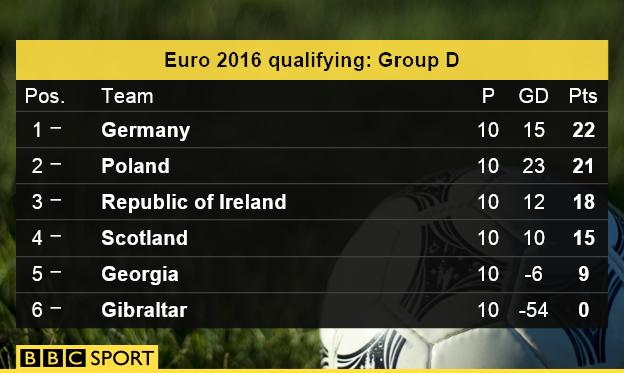 Sunderland striker Steven Fletcher: "It was difficult to lift ourselves, but we have a lot of young lads who are hungry to play and to score goals as well.
"The travelling fans were fantastic. For them to come over even though there was nothing to play for was great.
"We had to put up a performance for them and I think we did that.
"It was fantastic for them to stay behind after the game as well and show their appreciation."
Andrew Robertson: "It should always be a proud moment, earning another cap.
"It is never hard to lift yourself for your country, especially when you have that many fans travelling.
"Everyone was taken aback by it, if I'm honest. The gaffer came in and said that was quite emotional and I think we all agreed.
"They are all clapping, yet we did fail them - we're not hiding from that, we've not qualified. But to get that reception is unbelievable."
Gordon Greer: "After the other night to get knocked out and then have 10,000 of the Tartan Army there was incredible.
"And they sang their hearts out the whole game and it was a pleasure to play for them.
"Everybody's disappointed - the fans, the country - but to get supported like that after the other night was fantastic."
On beating Gibraltar 6-0

Andrew Robertson: "People will say it is expected, but you've still got to out and apply yourself against teams like this.
"If you don't do things right, you'll get punished and I thought it was a complete performance and I think the fans reacted to that."
Steven Fletcher: "We wanted to show them that we're not down out and we still wanted to go out with a fight even if there was nothing to play for.
"It's been a nice week on a personal level, but obviously I wanted to qualify - that was the main aim, and it's disappointing, but it was nice to get the match ball."
Gordon Greer: "It's great personally to get another cap and it's always good to win a game, but ultimately our aim is to qualify and we've not done that, so we're still disappointed. It's bitter sweet."
Optimism for future
Andrew Robertson: "People have failed before. As I've grown up, we've not qualified, but that squad of players and the coaching staff, we can be the ones maybe in the next campaign.
"You can see some of the performances we put in - Ireland at home and Poland was a good performance - they just grabbed a goal in the last minute.
"Of course there's optimism. You can see how we are linking up well and it has a club feel to the squad."
Steven Fletcher: "There's a lot of things we could have done differently and there's a lot of things we did right as well.
"You can see the progress we've made over the couple of years he's been in charge and I think it can only get better.
"We are playing nice football and we're scoring goals and I think we're going in the right direction."
Matt Ritchie: "We had to come here, be professional and it was a good performance, a lot of goals and a lot of positives to take from the game that will give us confidence the next time. I think we reacted well."