Cambridge United v Portsmouth almost World War Three - Money
Last updated on .From the section Football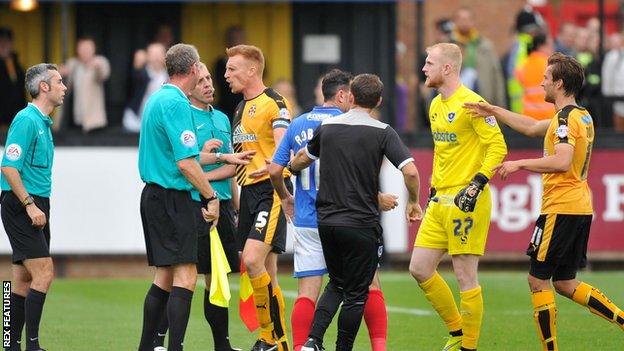 Cambridge United manager Richard Money said his side's League Two 3-1 loss to Portsmouth was like "World War Three".
Tempers flared during the match which included a controversial goal for the U's and a red card for Mark Roberts.
Money feels Pompey's reactions to incidents in the game went beyond what he considers acceptable.
"They are a massive club, good team, play lovely football," said Money. "But if that's what it takes to win football games, it's time for me to pack it in."
The controversy at the Abbey Stadium started when Robbie Simpson put the U's in front on five minutes, despite an offside flag being raised when he was played in by Luke Berry.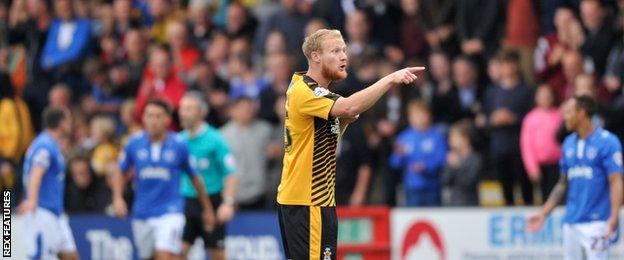 Referee Seb Stockbridge overruled the assistant's decision, much to the anger of Pompey players and staff.
"That one incident alone seemed to bring out the worst in everyone, on their bench, on the pitch," Money told BBC Radio Cambridgeshire.
"Officials make good decisions, officials make indifferent decisions but at the end of the day you aren't going to change his mind, just get on with it.
"The linesman put his flag up but took it down very quickly because the ball didn't come at the time he expected it to.
"[With] 80 minutes left, at 1-0, let's get on with it. But the game then becomes almost like World War Three. It's horrible to see and if I'm honest, it's not something I want to be involved in."
As the players walked off after a bad tempered first half, home defender Mark Roberts was dismissed after an altercation with Pompey assistant manager Leam Richardson and away goalkeeper Aaron McCarey.
While Money questioned why his captain Roberts got himself in that situation, he called the decision "horrendous" and said it was directly responsible for his side conceding three goals after the break.
He added: "With 11 men life is difficult, and with 10 - three of them we don't know how much they can give us over 90 minutes - you end up running out of steam.
"Portsmouth are a team that make you run, they switch the ball from side to side, you end up running out of steam.
"They've done a job on us, mugged us at half-time."