Newcastle United - A blessed club with the most damned fans?
Last updated on .From the section Football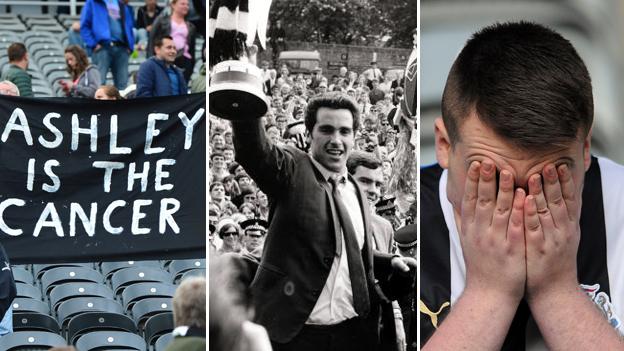 "They could field 11 monkeys in black and white tops at St James' Park and 50,000 would still turn up to watch. No word of a lie."
Through a thickening blizzard of Guinness and Geordie I can still make out the truth: Newcastle United must be the most blessed football club in the land, because there can be no set of fans more damned.
Plumbed into the bar of the Irish Centre, in the shadow of St James' Park, is a small oasis of glory. Men who remember when the pitch resembled a farmer's field, the ball flew like a suet pudding and the Leazes End doubled as a vast, open toilet. But also men who remember when players were just like them and shared their blazing fervour. And Magpies didn't mean bad luck.
"Aye, I was there when we won the Fairs Cup in '69," says Colin, recalling Newcastle's last major triumph, in the predecessor to the Uefa Cup. A month later, Colin witnessed another miracle, when man first set foot on the moon.
"Bobby Moncur got two at St James' Park, another in Budapest and we won 6-2. Those Fairs Cup days were unreal, 60,000 crammed into the ground like sardines, every match a celebration. But I'll not go back. I've done my time."
Sitting pretty in their England rugby jerseys, brothers Don and Adrian look like gluttons for punishment. But for them, too, the experience of being a Newcastle fan curdled from a celebration to a sentence, something they just had to escape from.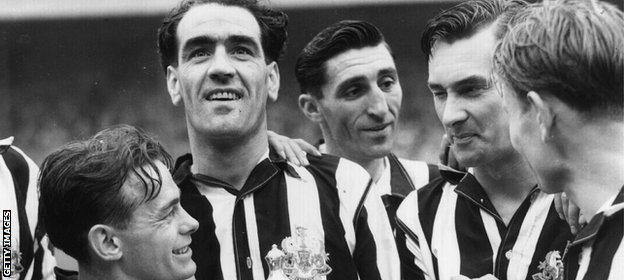 "I chucked my season ticket this season," says Don, 75. "Why? Because they're bloody rubbish. Last season was the final straw. It used to be my son, my brother and myself. But I says to them: 'Don't you dare try to persuade me to go back.' As it was, we all 'hoyed' our tickets in. But you still get 50,000 muppets going every week. Blind faith, that's what it is."
It is staggering that a club that hasn't won a major trophy for 46 years, the FA Cup since 1955 and a league title since 1927 should be the third-best supported club in England - and the 12th in Europe - with average attendances of 50,359 in 2014-15. It is also staggering that the 18th richest club in the world should be rooted to the bottom of the Premier League. Three points from eight, no wins, a 6-1 shellacking last time out. Blind faith sounds about right.
Indeed, some of the old-timers in the Irish Centre sound a lot like lapsed Catholics - inculcated with religion at a young age, finally wavering, but unable to let go completely, just in case God does exist. And his pearly gates are painted black and white.
"I still go to the pub and watch it," says Adrian, 70. "It's just mindless dedication, simple as that. The club is going further and further downhill but the fans are still there and they always be. We've seen the good times, so it's very sad to see the state they're in now. But it's the young fans I feel sorry for.
"Their fathers can sit them down and tell them about Malcolm Macdonald, Kevin Keegan and Alan Shearer, players who gave the fans a little bit of excitement. There's no excitement there now. But the young fans just don't know anything else. Match day comes around and they've just got to go."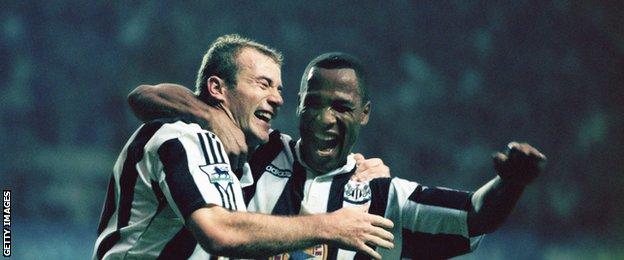 It's not all doom and gloom in the Irish Centre, and way beyond anger. "A young kid came in the other day in his black and white top," says Bobby, who is almost incomprehensible to this southerner but doing his very best to make himself understood. "On the back he'd had written: 'I hope we win something before I die.' He was only 25!"
Bobby dissolves into laughter, before adding: "The sad part is, I don't think they will. But they could field 11 monkeys in black and white tops at St James' Park and 50,000 would still turn up to watch. No word of a lie."
As the gallows humour flows on Gallowgate, I am reminded of an apt line from the final scene of The Big Lebowski: "I guess that's the way the whole darn human comedy keeps perpetuatin' itself, down through the generations."
Bobby, too, was there when Newcastle beat Hungary's Ujpesti Dozsa in the Fairs Cup final. He also remembers the quarter-final first leg against Setubal, when Newcastle beat the Portuguese side 5-1 in a snowstorm. And he was at the semi-final second leg against Glasgow Rangers - 'The Battle of Gallowgate' - when Scottish fans swung from pylons, invaded the pitch and battled with police.
He also witnessed the near-misses of the Keegan managerial era, when a dashing Newcastle side blew a 12-point lead over Manchester United to finish second in the Premier League in 1996, before losing consecutive FA Cup finals.
Those agonies of the 1990s are all still crystal clear to Bobby - "because it's the last time there was any hope" - but it must all seem like ancient history to that poor 25-year-old kid.
How time passed Newcastle by
28 English clubs have won a major trophy since Newcastle's last in 1969
20 teams have won the FA Cup since Newcastle last won it in 1955
18 teams have been league champions since Newcastle's last title in 1927
23 teams have won the League Cup - Newcastle were runners-up in 1976
Rivals Sunderland have won the league ('36) and FA Cup ('73) more recently
Bobby's pal Norman finds it more difficult to see the funny side. For Norman, since Mike Ashley bought the club in 2007 life as a Newcastle fan has been mainly about sadness, disillusionment and despair.
"We've got the best supporters in the land and we're bottom of the league," says Norman. "And if Mr Ashley doesn't get his act together, we're going to go down. It would be difficult to find another set of fans in world football who have been so badly served. It breaks my heart to see how the club's being run."
A beaming Norman hands me a clipping from Wednesday's Newcastle Chronicle. It's a photograph of him sharing a beer with Newcastle luminaries Terry McDermott, Pat Howard and Tommy Cassidy, before the 1974 FA Cup final (which Newcastle lost to Liverpool). Norman is obviously proud of his connections, but he also wants to make a point.
"The players in those days cared about the town and the club," says Norman. "They spoke to the fans directly and the fans could identify with them. These were blokes who used to train up at Hunter's Moor, where there were cows in the field. We'd sit and watch them in a little tin hut. They used to play five-a-side matches in a car park. But they had a real passion for the town.
"Aleksander Mitrovic [Newcastle's Serbian striker] was in the Chronicle the other day saying the players still care about Newcastle. What a load of rubbish. That's what hurts the most, the lack of passion from the players. There's nothing there whatsoever."
The consensus in the Irish Centre is that nothing will change as long as Ashley is there. But walking, talking Newcastle United almanacs that they are, they appreciate the club has never really been well-run.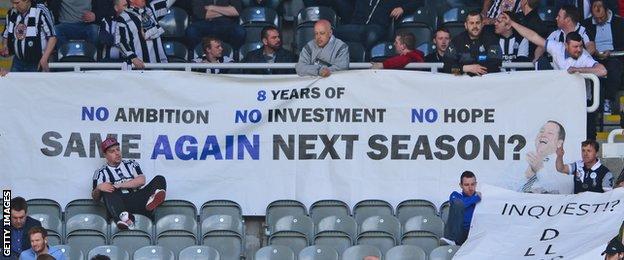 "Jackie Milburn, our greatest bloody player, had to wait 10 years for a testimonial," says Bobby. It is also pointed out that back in the grim 1980s, attendances at tumbledown St James' Park dipped to as low as 16,000. But at least they had Beardsley and Waddle back then. To a man, they believe that the club was primarily a business acquisition for Ashley and had little to do with any grand sporting ambition.
Under Ashley, they believe the club has lost its identity and become a tawdry toy for an easily distracted owner. There was the renaming of the stadium in 2011, followed by the sponsorship deal with a controversial loan company. Newcastle fans and rivals alike started referring to proud old St James' Park as 'The Wonga Bowl'. More of that gallows humour on Gallowgate, but hard for these proud men to take.
Paranoia and suspicion creeps like a fog across the town. The boys in the The Back Page, which specialises in Newcastle United memorabilia, flatly refuse to talk to me. Maybe it's because I'm a Londoner. Dark mutterings about a "Cockney mafia" persist, even after the departure of Alan Pardew.
With the benefit of hindsight, some think that Pardew, who led Newcastle into Europe in 2012 and is now Pearly King of high-flying Crystal Palace, should never have left. Certainly, none of those I speak to think Steve McClaren, Pardew's replacement, will still be on Tyneside this Christmas.
"McClaren has got three games to sort this out," says George, who has been watching Newcastle since Stan Seymour was the manager in the 1950s and is one of the few boys I speak to who still has a season ticket.
"The Sunderland game [on 25 October] is massive. If the players don't know what they've been playing for so far, they better know what they're playing for in two weeks' time. I'm just so disheartened by what's going on over there. But it will be a lot worse if we lose to the bloody Mackems."
George thinks the only way things might get better is if his beloved team go down. But even if St James' Park is hosting Rotherham and Brentford next season, George will probably still be there. At least he can close his eyes, summon the Gallowgate roar and pretend he's watching 'Wor' Jackie. Who can the kids close their eyes and dream of? Shola Ameobi?
"All my friends have chucked in their season tickets now," says George. "And they'll never go back. Lots of people have told me not to go back but I'll never stop. I don't know why I keep going - but I keep going. Maybe it's because I'm a fighter. But do I have any hopes for the future? Not many."
The blizzard grows still thicker. Norman, rheumy-eyed now, talks vaguely of somebody needing to wave a magic wand. Bobby, growing more garrulous, fondly recalls his boots filling with warm urine at the Leazes End and about the time he witnessed Vinnie Jones "grab Gazza by 'the clemmies'". As parts are apparently called in these parts.
But I can still make out George, supping on his Guinness and sadly incanting: "Aye, they were the good times. They'll not come back again."