Melbourne City player-coach role suits Wales's Jess Fishlock
Last updated on .From the section Welsh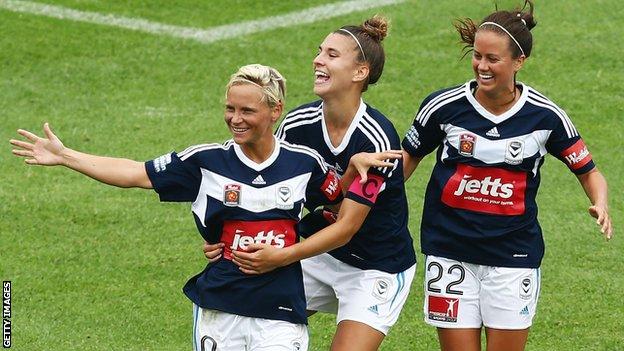 Wales forward Jess Fishlock says the opportunity to develop her coaching was a major lure to re-join Australian side Melbourne City on loan.
With parent club Seattle Reign having finished their season in North America, Fishlock will head down under to play in the W-League from late October.
The 28-year-old has had two previous loan spells at Melbourne Victory.
"I didn't want to go a long time without playing and I get to be there as an assistant coach," Fishlock said.
"It is something I really wanted to do, but I also feel that Melbourne City are really going to take women's football in Australia to another level.
"With their facilities and what they're now having for the ladies I wanted to be a part of that, and I wanted to help push football in the right direction."
Fishlock, who has scored 28 goals in 87 games for Wales, will combine playing with the post of assistant coach alongside head coach Joe Montemurro.
Melbourne City are part of the network of teams owned by City Football Group, which also includes Manchester City and New York City FC.
"They're basically the sister of Manchester City and New York City, and Man City are just taking over the world right now... they're all the same franchise," added Cardiff City Ladies product Fishlock.
"You see what City are doing here in England for the women and it's going to be very similar out there."