Italian football TV deal investigated over fixing claims
Last updated on .From the section European Football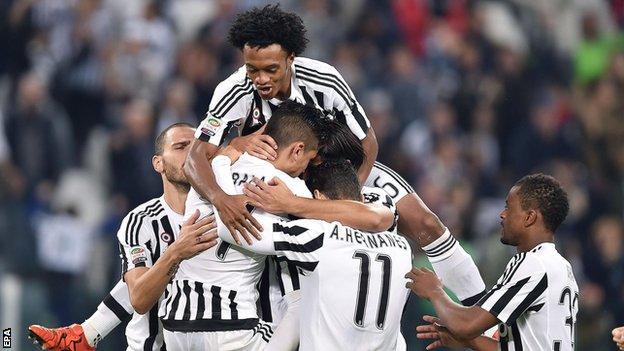 Senior figures at a sports marketing agency run by the nephew of suspended Fifa president Sepp Blatter are being investigated over the "alleged manipulation" of television rights.
Prosecutors in Milan are looking into the sale of rights to show Italian football's top-flight Serie A.
They have opened an inquiry against Infront Italy's Marco Bogarelli, Andrea Locatelli and Giuseppe Ciocchetti.
There is no suggestion Infront president Philippe Blatter is involved.
In a statement, the firm which is based in Switzerland, said: "Infront as a company is not facing a formal probe in these subject matters.
"Infront and its local management are co-operating with the authorities to establish the accuracy or otherwise of the claims."
The three allegedly involved in the deal head up Infront's Italian operation.
The 2015-18 rights were sold jointly to Sky Italia and Mediaset - owned by ex-prime minister and media magnate Silvio Berlusconi - for 943m euros (£703m) per season. That equates to more than £2bn over the three years of the deal.
Mediaset has also issued a statement saying its staff have "worked completely within the rules".
Tax consultant Andrea Baroni, who Italian media have linked to Infront, was arrested Friday on charges of criminal association aimed at money laundering and tax evasion.
"Infront does not have and has never had any business relationship or involvement whatsoever with the Swiss consultancy company Tax & Finance and/or Mr Andrea Baroni."
Fifa president Sepp Blatter has led world football's governing body for 17 years but is due to step down in February following a series of damaging corruption allegations.
Last week, he was suspended from all football activity for 90 days by Fifa while it investigates more claims of corruption against its leader.
He denies any wrongdoing.