Stuart McCall expects Gordon Strachan to remain Scotland boss
Last updated on .From the section Scotland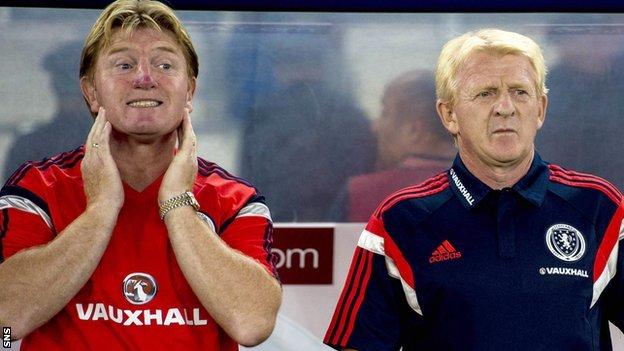 Scotland assistant coach Stuart McCall is confident that "positive news" will emerge soon about Gordon Strachan staying on as national team manager.
"Yes it's looking likely," McCall told BBC Radio Scotland's Sportsound programme.
"It's not signed, sealed and delivered yet, but hopefully over the next 48 hours it'll be done."
Strachan, 58, has taken this week to reflect on his future after an unsuccessful qualifying campaign for the Euro 2016 finals in France.
Scotland finished fourth in Group D and missed out on the play-offs, with the Republic of Ireland securing third.
"We're all still getting over last week - it's bitterly disappointing and we're all hurting," said former Motherwell boss McCall, who has been part of the Scotland back-room team since 2013.
"What made it worse was the start we got; we took 10 points from the first half of the campaign and only five in the second part.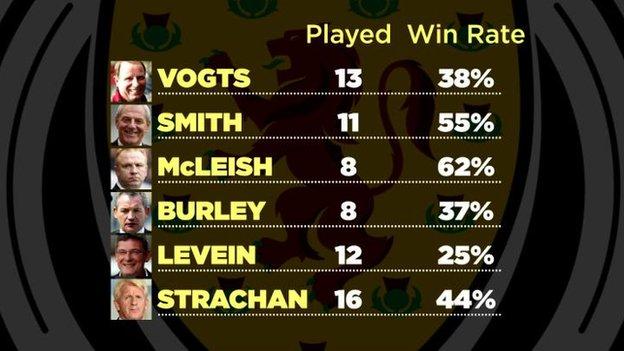 "Expectation levels had risen; Gordon's a proud man and we all realise we've actually failed in what we wanted to do.
"I can understand Gordon having a little bit of soul-searching but I think the key for Gordon, not only the support he got from the fans, but from the players and the staff. He knows he's wanted and if the players want you, that's a huge thing."
McCall confirmed he would like to continue his own Scotland role if asked by Strachan, as the national team now looks ahead to the 2018 World Cup qualification campaign.
Scotland are in Group F along with England, Slovakia, Slovenia, Lithuania and Malta, who the Scots play first in September 2016.
"You look at Slovakia and Slovenia and England and you start getting a little buzz again and think hopefully we can get to where we want to go," McCall added.
"We didn't do it this time but hopefully we can do it next time."