Uwe Rosler: Leeds boss not aiming for promotion this season
Last updated on .From the section Football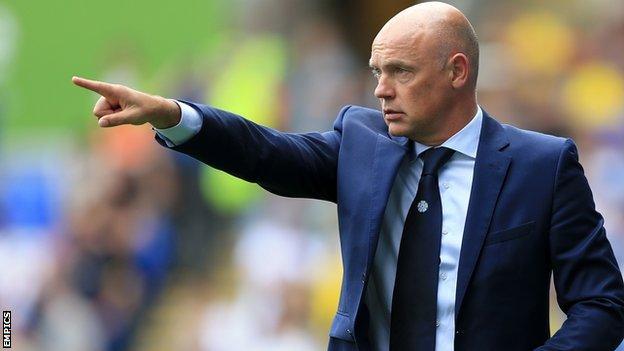 Leeds United are not targeting promotion this season, according to head coach Uwe Rosler.
The Elland Road side are currently 16th in the Championship with 11 points, having finished 15th in 2014-15.
"We want to improve on last year and the main thing is that we stay calm," he told BBC Radio Leeds.
"My personal aim is to finish top 10. Is that realistic? Yes. I said from day one promotion is not on my agenda, it is not possible this season."
He added: "I think, given the time, this team will end up where it belongs and that is the Premier League."
Leeds have not been in the top flight since 2003-04 when they were relegated under caretaker boss Eddie Gray.
The Whites are yet to win at home this season and have not been victorious at Elland Road since a 2-1 win over Ipswich on 4 March.
Rosler acknowledged that the players may be struggling to cope with the pressure of playing in front of their own fans.
"The problem has not arrived now. It has been here for quite some years," the former Brentford and Wigan boss said.
"I think that sometimes the expectation of the crowd can be a burden for some of the players."
"I'd like a Ferrari but I have to have an Audi"
The Leeds boss is keen to bolster his squad but is realistic about the financial constraints he must work under.
Chairman Massimo Cellino has accused previous Leeds owners of "throwing money out of the window".
When asked if he would like to add an experienced player like Joey Barton, who joined divisional rivals Burnley in August, he said: "I'd like to drive a Ferrari as well but at the moment I have the money only for an Audi.
"The biggest challenge for everyone at this football club and who loves it is that we have to be realistic. We are not on parachute payments, we can not pay astronomical wages.
"We try to recruit under certain profiles for players who have their best years ahead of them. Players with potential."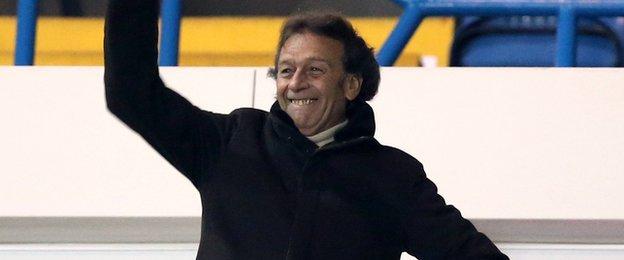 Life under Cellino
Rosler became Leeds's fifth head coach in a year when he was appointed as Neil Redfearn's successor in May.
Despite Cellino's record for sacking managers Rosler is happy working under the Italian.
"Mr Cellino and myself are having daily conversations and I feel relaxed in his company," he said.
"I can say what I want to say and he respects my opinions even if he doesn't always agree with them."