Gordon Strachan a fantastic coach, says Mark McGhee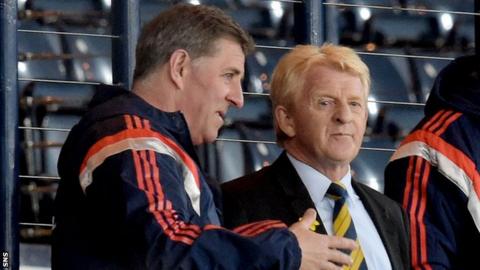 Mark McGhee says no-one should doubt what a "brilliant" coach and manager Gordon Strachan is as Scotland await news of his future.
Strachan is expected to continue as national team coach and lead Scotland into the 2018 World Cup qualifiers.
McGhee would stay on as his assistant in addition to his new role as manager of Motherwell.
"I'll take a lot from what I've seen Gordon do and the way I've seen Gordon work," said McGhee.
"Gordon has less need for me between now and maybe next July or so and then I can pick it up again," said McGhee.
"We're quite clear with the club and with Gordon and [Scottish FA chief executive] Stewart Regan that I can continue to do the Scotland job while I'm working here.
"Gordon is brilliant. I don't think anyone should doubt they have a fantastic coach and a fantastic manager leading the national team."