Garth Crooks's team of the week: Mignolet, Rojo, Vardy, Wijnaldum

By Garth Crooks
Football analyst
Last updated on .From the section Football
A couple of hat-tricks, several thrashings and an unlikely comeback. The Premier League weekend had no lack of excitement.
Leicester City showed their character again in a thrilling 2-2 draw at Southampton to stay in the top five, and a Georginio Wijnaldum-inspired Newcastle climbed off the bottom by hammering Norwich.
Sunderland end the weekend bottom after losing at West Brom with Aston Villa, beaten by Chelsea, joining the Magpies in the drop zone.
But who were the standout performers? Here are my selections.
Goalkeeper - SIMON MIGNOLET (Liverpool)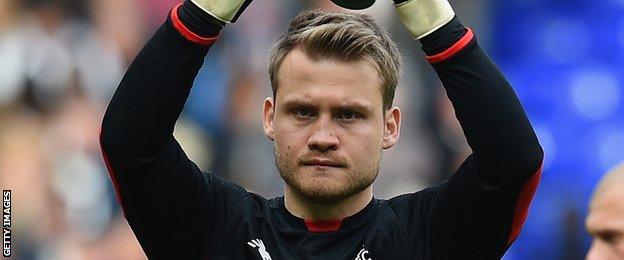 This was a tricky fixture for Liverpool particularly with so much interest in the arrival of new manager Jurgen Klopp. It needed players with steady nerves and cool heads against a Tottenham side still revelling in the victory over Manchester City. The stage could not have been better set for another big club's head to roll. Fortunately for Klopp and Liverpool, Simon Mignolet was on top of his game. The Belgium international was outstanding and produced a number of superb saves. If Mignolet can continue in this form and Klopp can get Christian Benteke and Daniel Sturridge fit and scoring goals, along with a couple of additions in January, perhaps a top-four finish is not out of the question.
Defender - CARL JENKINSON (West Ham)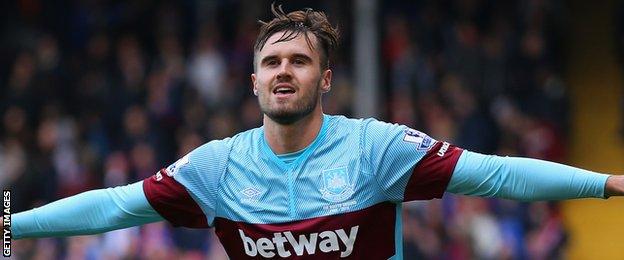 Carl Jenkinson appears to be having one hell of a rollercoaster ride in the claret and blue. During his short but eventful time with the Hammers he's been sent off, left out, substituted and given away a penalty against Crystal Palace. Nevertheless, this lad keeps bouncing back. His ability to shake off these occupational hazards and still try to get among the goals is quite astonishing. His finish at Sunderland last week might have been perceived as a fluke but his goal against Crystal Palace smacks of a full-back developing a taste for the art. A player with a terrific will to succeed.
Defender - LAURENT KOSCIELNY (Arsenal)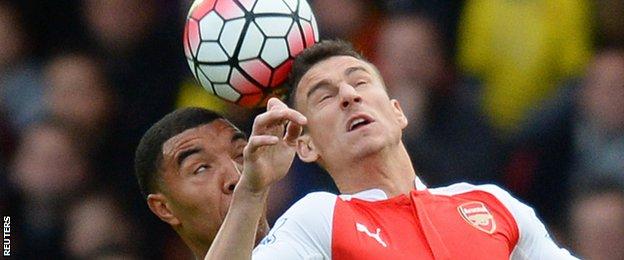 What a fantastic interception Laurent Koscielny made from a Troy Deeney cross during his side's win over Watford. Had the cross evaded Koscielny it would have presented Odion Ighalo with a side-foot finish. The intervention at 0-0 was a game-changer. In the absence of Gabriel it was left to Koscielny and Per Mertesacker to keep Watford at bay while Mesut Ozil, Aaron Ramsey and Alexis Sanchez took the hosts apart at the other end.
Defender - MAMADOU SAKHO (Liverpool)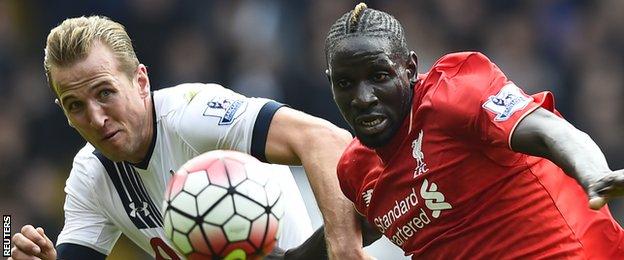 This wasn't the most exhilarating game in the world but it would have told new Liverpool manager Jurgen Klopp a lot about how his players perform, particularly away from home. A player who doesn't often get the plaudits he deserves is Mamadou Sakho. It was the Frenchman's performance - as opposed to the normally dependable Martin Skrtel - that stood out against Spurs. It will be interesting to see if Sakho can convince Klopp he's worth a long-term investment or whether, as I suspect, the German will try to attract a big-name signing, probably from his old club Borussia Dortmund.
Defender - MARCOS ROJO (Manchester United)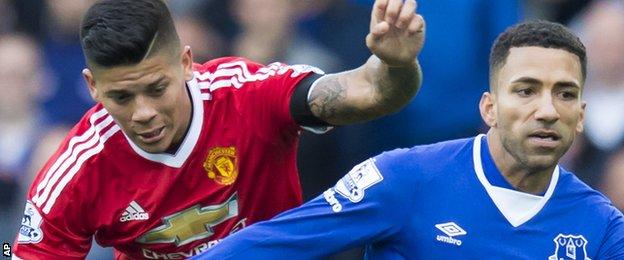 For a player who has not played an awful lot of first-team football for Manchester United, Marcos Rojo certainly didn't look like someone short of match practice. He was involved in setting up United's first goal and provided the perfect cross for Ander Herrera to convert after a superb piece of refereeing by Jonathan Moss, who allowed an advantage after Anthony Martial was unceremoniously scythed down by Seamus Coleman. That didn't distract the Argentine as United went two up and effectively put the game to bed. A sound performance from a player who manager Louis van Gaal didn't seem to have a great deal of faith in until recently.
Midfielder - ANDER HERRERA (Manchester United)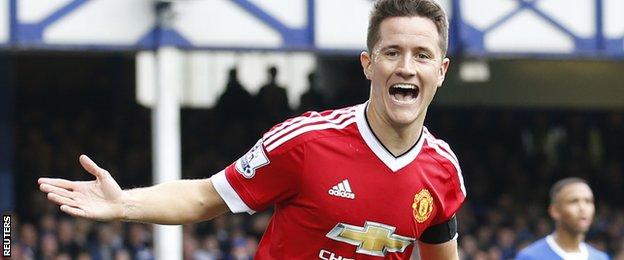 When Ander Herrera performs well he really looks the part, and against Everton he seemed to glide around Goodison Park. Any kind of performance from Everton would have been a fitting send-off for the late great Howard Kendall but Herrera took total advantage of Everton's inability to shake themselves out of their inertia. Herrera is very fortunate to have such an accommodating captain as Wayne Rooney, who has waited patiently for him and other new arrivals to come to terms with Louis van Gaal's new system, often to Rooney's detriment.
Midfielder - MORGAN SCHNEIDERLIN (Manchester United)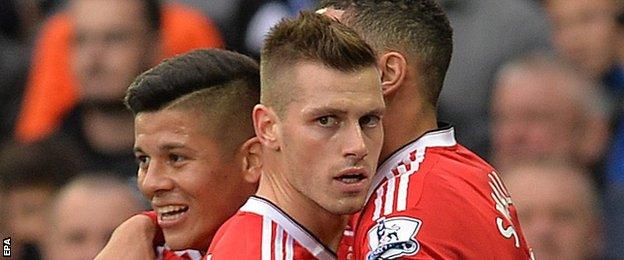 It has not been an easy transition for Morgan Schneiderlin since he joined Manchester United. The Frenchman has found it difficult to make an impact since his arrival in the summer. Yet against an Everton side who failed to turn up for this normally feisty fixture, Schneiderlin looked very comfortable. He provided Ander Herrera and Wayne Rooney with all the props they required to put an ordinary Everton to the sword. A very expensive but nevertheless excellent support act.
Forward - JAMIE VARDY (Leicester City)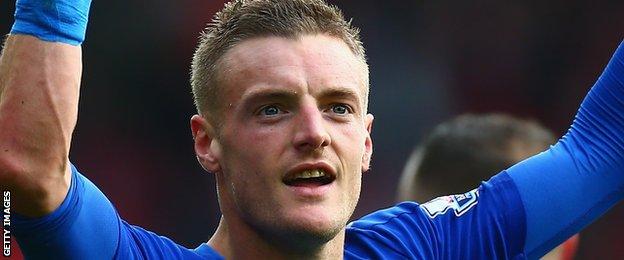 He's done it again. His eighth and ninth goals in nine league games this season. What a double substitution by Claudio Ranieri but why Riyad Mahrez and Nathan Dyer were on the bench in the first place leaves the Italian's selection open to question. I can't work out if it's the manager who waits until Leicester are 0-2 down before they begin their resurgence, or that Jamie Vardy simply enjoys the drama.
Forward - GEORGINIO WIJNALDUM (Newcastle)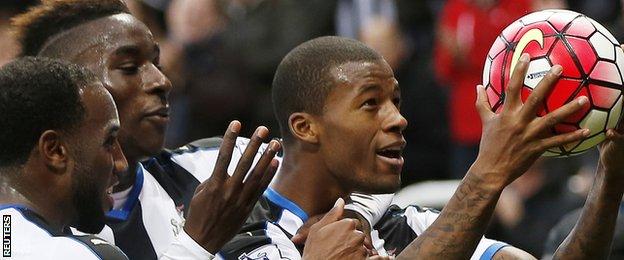 It speaks volumes when you have to score six goals to guarantee three points at home. Even at 5-2, Newcastle manager Steve McClaren was experiencing moments of discomfort. The Magpies are having to go to some extraordinary lengths these days in order to secure a victory. It was just as well Georginio Wijnaldum had an inspired day and scored four superb goals. But if McClaren or any of his staff think for one minute that Wijnaldum, or anyone else for that matter, can keep scoring goals at this rate to win games he can think again. Wijnaldum needs to have a quiet word with his boss and tell him to sort his defence out.
Forward - RAHEEM STERLING (Manchester City)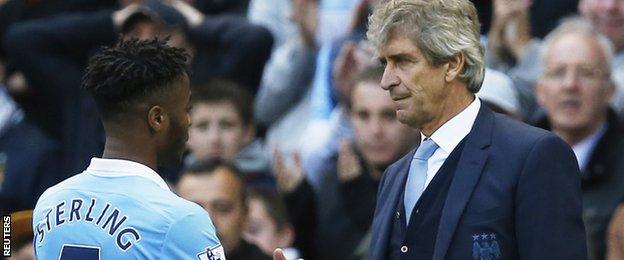 His first goal was instinctive, his second left three Bournemouth defenders on their backsides and his third was finished like City legend Francis Lee. That said, Raheem Sterling should have scored two hat-tricks against a Bournemouth side so out of their depth it was scary. Granted they don't have to face Manchester City or Sterling every week but I think Cherries boss Eddie Howe might have to rethink playing such an open game against sides with obvious quality or he could be facing a few more hidings before the season's out.
Striker - WILFRIED BONY (Manchester City)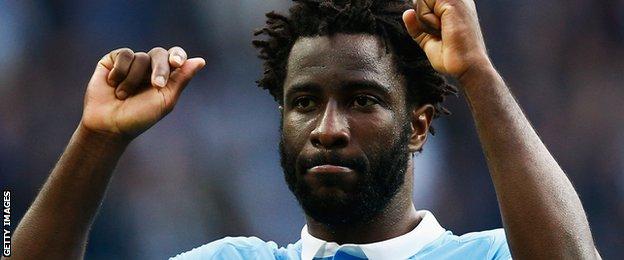 Boy, did Wilfried Bony need these two goals. With Sergio Aguero out through injury it gives City manager Manuel Pellegrini an opportunity to give Bony some much-needed game time and a chance to get among the goals. What I wasn't expecting to see was Bony forge such an impressive partnership with Sterling in the way David Silva has with Aguero. I don't suspect this relationship will supplant the latter any time soon, but it certainly is a useful asset to have.