Jose Mourinho: FA dismissed Chelsea manager's English claim
Last updated on .From the section Chelsea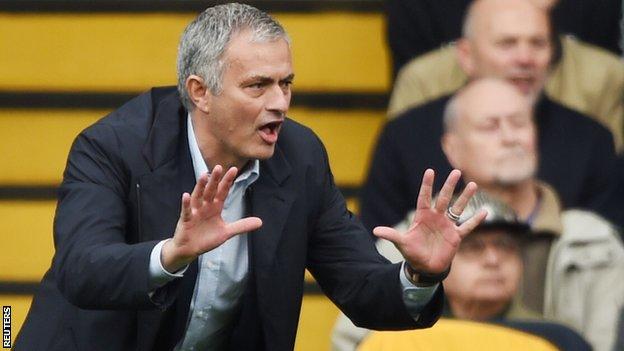 Chelsea manager Jose Mourinho blamed a lack of English language skills after accusing referees of being "afraid" to give his side penalties.
The Portuguese has described the fine as a "disgrace" and appealed.
A hearing dismissed his mitigation and decided the 52-year-old's English is "too sophisticated".
Mourinho's claim emerged after the FA released the written reasons for decision of an independent regulatory commission.
The Blues boss admitted improper conduct but denied questioning the integrity of referee Robert Madley.
In mitigation, Mourinho also pointed to similar cases involving five other Premier League managers.
As well as criticising the level of his fine, Mourinho called his stadium ban, which is suspended for a year, "astonishing".
He has felt aggrieved that Arsenal manager Arsene Wenger went unpunished for calling referee Mike Dean "weak" and "naive" after his side's 2-0 defeat by Chelsea last month.
Wenger also faced no action after pushing Mourinho in the Stamford Bridge technical area in October 2014.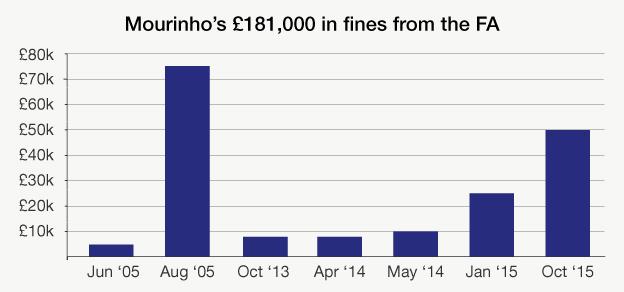 Mourinho also attempted to argue that his comments were post-match with tensions running high, but the panel ruled that was "no excuse".
"Mr Mourinho is an experienced manager and an experienced interviewee," it said. "This was not some spur-of-the-moment unguarded outburst. These were quite lengthy comments, delivered calmly and in a controlled way."
Mourinho's £50,000 sanction was the seventh time he has been fined by the FA in 10 years, with those punishments totalling £181,000.
"The more than doubling of the January 2015 fine as compared with the May 2014 fine has not deterred him from this latest and more serious breach," stated the commission's written reasons.
"The fair way to impose this deterrent is to suspend the ban so that Mr Mourinho is able quite easily to avoid its ever coming into effect.
"The matter is in his hands."