Yeovil Town budget limit frustrates manager Paul Sturrock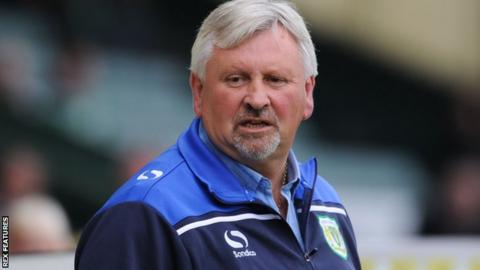 Yeovil boss Paul Sturrock says the club's budget constraints are slowing down his plans to turn the team around.
Sturrock took over as Glovers boss in April but could not prevent them dropping into League Two - their second successive relegation.
"Fifty five % of turnover is all you can spend on your players," he said.
"We've got 3,500-4000 home fans. Plymouth have got 8,000, Portsmouth have 17,000, Luton have huge amounts, so their budgets are much bigger."
The 59-year-old continued: "That's been the key to my problems as far as bringing in what I want to bring in."
Sturrock's experience
Won 20 caps for Scotland as a forward, playing in the 1986 World Cup and reaching the 1987 Uefa Cup final with Dundee United
Managed eight clubs in Scotland and England
Won five promotions with four clubs, including two in three seasons with Plymouth Argyle from 2001-2004
Announced he was
suffering from Parkinson's disease
in 2008
This season has been another difficult one for the only professional club in Somerset, with Sturrock's side winning just two of their opening 13 league games, leaving them one point and one place above the relegation zone.
He made 15 new signings in the summer, but has seen many of his players struck down by injuries.
"When I first got here they were a losing football club, a losing squad of players," he told BBC Radio Devon.
"We ripped the guts out of that squad, but the problem with that scenario now is the budget aspect of how you bring in players.
"It's going to be a slower job, and 10 injuries doesn't help."
The Scot added: "From day one to now having eight players unavailable, and all of them experienced players, it makes it even slower for what you want to develop.
"We're sitting third bottom of the table, but things are starting to get healthier."