Jerome Boateng: Why Jay-Z is helping Bayern star to conquer US
Last updated on .From the section European Football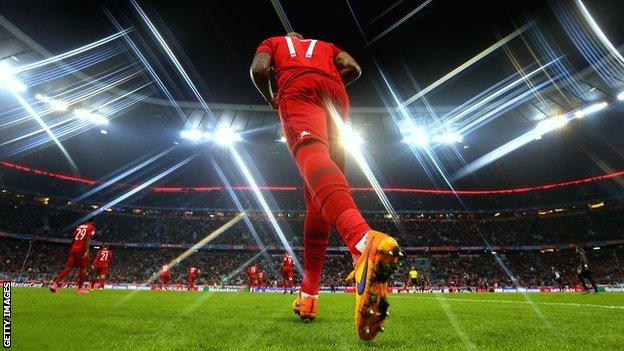 Champions League Group F: Bayern Munich v Arsenal
Date:
Wednesday November 4.
Kick-off:
19:45 GMT.
Venue:
Allianz Arena.
Coverage:
Live on BBC Radio 5 live, plus live text commentary on the BBC Sport website and app.
John Barnes' World in Motion cameo. Clint Dempsey's ball-juggling alter ego 'Deuce'. Bradley Wright-Phillips and Yannick Bolasie's motor-mouthed grime battles.
When footballers play at rap the results can be mixed.
For Jerome Boateng, though, mixing with the music game is about making dimes not rhymes.
In June, the Bayern Munich and Germany defender became the first footballer to sign to Roc Nation Sports - the sports arm of the talent agency set up by superstar rapper Jay-Z two years ago.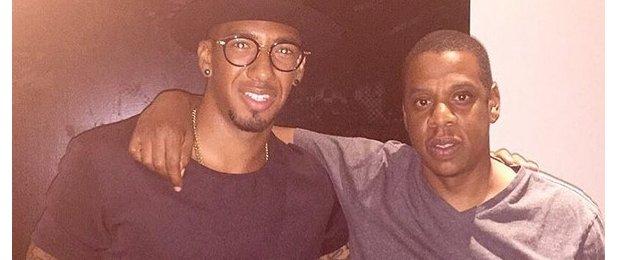 The pair celebrated the deal amid the walnut and leather of Jay-Z's 40/40 sports bar in Manhattan, shooting the breeze on their shared interests, before Boateng headed off with VIP passes to a Mary J Blige concert.
"They have struck up a nice little friendship," Michael Yormark, the agency's president of strategy and branding told BBC Sport.
"Jay is a big soccer fan and Jerome is into music and fashion, those are things that Jay is passionate about also. They both love sports.
"There were a lot of common connection points between the two of them and they hit it off really well."
It means Boateng is marketed in America by the company that looks after the likes of NBA all-star Kevin Durant and multi-weight world champion boxer Miguel Cotto.
But it also manages the affairs of musicians Kanye West, Rihanna, Rita Ora, Shakira and Jay-Z himself.
So, why Boateng?
In a word, he's cool.
His 2014 World Cup win, Champions League glory with Bayern a year earlier, and three Bundesliga titles are important. Matthias Sammer's opinion that Boateng has followed in his footsteps to become the best defender in the world is nice.
But his credentials as a top-level performer are only half the attraction.
Roc Nation is as much interested in the room in his house that is home to his 650-strong trainer collection as the one that stores the trophies.
Or the mural of Boateng and his brothers - Ghana international Kevin-Prince, now at Schalke, and elder sibling George, an amateur footballer who has launched his own career in hip-hop - that marks their more humble roots in the tough Wedding district of Berlin.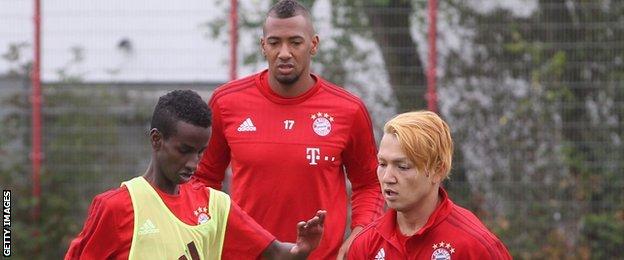 They believe his music video appearances, his range of eyewear, his cosmopolitan background, his fluent English, his various charity work - including welcoming refugees at a recent Bayern Munich open day - and, above all, his affable personality, add up to crossover corporate gold.
"Jerome is one of the premier players in the world. He is a great athlete, but he also has these interests off the field," adds Yormark.
"He loves fashion, entertainment and music - which makes him very marketable and opens up doors with brands.
"He has a certain style and swagger about him, a confidence about him that is very impressive."
Why it makes sense for Boateng
Boateng has certainly grown as a player and person since his single season at Manchester City.
After signing from Hamburg in June 2010, his City career got off to a false start when an air stewardess pushed a drinks trolley into his knee, aggravating an injury. He managed only 24 appearances and was often played out of position at right-back.
Analysis: Darren Heitner, sports lawyer
"When compared to traditional sports agencies, Roc Nation are much more focused on marketing than contracts for on-field performance. They will see something in Jerome Boateng, be it race or demographic, that makes him highly marketable.
"Soccer in America has shown steady growth in the last five years in terms of interest, participation and spectators - both of the international game and of the MLS. The timing of this deal makes sense.
"Jay-Z was everything at the start. Without Jay-Z, what was Roc Nation Sports? His connections with brands and the entertainment industry were all it had.
"Through some really good deals and the really able individuals he has recruited to work at the agency, some of that early scrutiny has vanished."
On signing for Bayern a year later, his aims were modest. "I've come here to make the defence more solid," he said.
Now they are more ambitious. "America is a huge market. It is a very interesting continent. We will see if I can conquer it," he said this summer.
And he has little to lose from trying.
Roc Nation is responsible only for building Boateng's brand in the United States.
In all other matters - such as playing contract negotiations - he is still represented by SAM Sports, the German agency run by former Bayern Munich and Rangers midfielder Christian Nerlinger.
Roc Nation has struck similar partnerships before. In its infancy it linked up with industry heavyweight Creative Artists Agency - who represent the likes of Real Madrid and Portugal forward Cristiano Ronaldo - teaming its stardust with CAA's market clout to establish a foothold in the industry.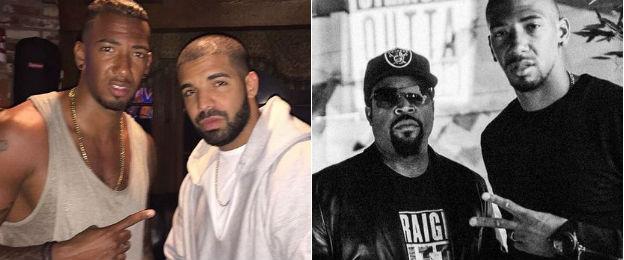 Their latest arrangement means Boateng can test out the US market, Jay-Z can tap into the expanding popularity of football stateside and Bayern Munich have a turbo-charged figurehead to rally new American fans around. All with minimal risk to both parties.
And Boateng gets to work with Jay-Z.
"Of course the personal exchange with Jay-Z was a highlight," Boateng told BBC Sport. "He is real, down-to-earth and well-informed about what is going on."
"We are already very recognised by these athletes before we even sit down," explains Yormark.
"Jerome listens to Jay's music, he is a fan. Without a doubt, that gives us a competitive advantage."
What next?
So far, Roc Nation have been preparing ground rather than sealing deals.
When fellow client Durant came to Europe to sell shoes in September, Boateng shared the spotlight in Berlin, the pair trying out each other's sports and posing for selfies.
Boateng has also posted material on Tidal - Jay-Z's much-hyped music streaming service - and popped up at glitzy LA parties.
"The first part of establishing a brand for Jerome is to align him with other stars in our family," says Yormark.
"When we put two athletes together like Kevin and Jerome, one plus one equals three for us.
"We also introduce our sports guys to our music artists, the likes of Rihanna and Kanye West.
Other athletes on Roc Nation's books

Kevin Durant
Basketball (Oklahoma City Thunder)

Miguel Cotto

Boxer

Andre Ward
Boxer

Robinson Cano

Baseball (Seattle Mariners)

Skylar Diggins
Basketball (Tulsa Shock)

Geno Smith

American Football (New York Jets)

Victor Cruz
American Football (New York Giants)

CC Sabathia

Baseball (New York Yankees)
"As he spends more time here in North America, we will create those opportunities for Jerome."
The second part of the plan - corporate deals signed, sealed and delivered - is yet to follow.
Yormark speaks cryptically of "opportunities in the works" and "announcements over the next 60 days". Would it not be easier for Roc Nation to market a player playing in Major League Soccer?
The answer comes from one of their own.
One of the unexpected sideshows to last year's World Cup was Rihanna's Twitter punditry - offering her views on Luis Suarez, Germany's tactics and Argentina's goalkeeping. She is yet to show such interest in America's showcase league.
The United States' opening match at Brazil 2014 cut through to 25m viewers stateside - more than the NBA finals or World Series baseball. At the start of this year's MLS season, matches did well to attract 500,000 viewers.
"It is not necessary for Jerome to play in MLS for us to be interested in him," says Yormark.
"Jerome is a global brand. US soccer fans watch European leagues anyway. If he chooses down the road to play in the MLS, that would be the icing on the cake."
At 27, that might just be part three of the Boateng plan.