2019 Island Games: Gibraltar axes football, cycling and volleyball
Last updated on .From the section Football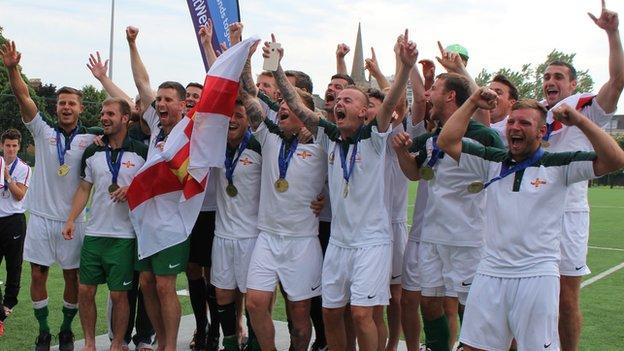 Football, cycling and volleyball will not be included in the 2019 Island Games after Gibraltar's bid to host the biennial event was successful.
The three sports have been a core part of every Island Games since their inception in 1985 and would be replaced by tenpin bowling, judo and squash.
The British Overseas Territory is also planning to use a cruise ship to house 3,000 people attending the games.
Gibraltar were the only bidders for the 2019 event after Menorca pulled out.
Golf, which has been at every Island Games since 1997, is also not being held as Gibraltar does not have a course.
There had been concern over whether any of the member islands would host the event after the Spanish island withdrew their interest during the 2015 Games in Jersey.
Forthcoming Island Games hosts and bidders
2017:
Gotland
2019:
Gibraltar
2021:
Guernsey *
* Indicates the island has put in, or is planning to put in, a bid for the event
"This is great news for our association," said International Island Games Association president Jorgen Pettersson.
"I would like to thank the Gibraltar Island Games Association and HM Government of Gibraltar for showing responsibility and taking up the challenge of hosting the 2019 Games.
"I am delighted that we are able to give one of our smaller members this opportunity."
Gibraltar last hosted the Island Games in 1995 and the Gibraltar Island Games Association (GIGA) says 2019 will be the right time to host the event for a second time.
"Gibraltar has an excellent track record in organising international sporting events," the island's bid document states.
"The local sporting fraternity travels to numerous destinations on an annual basis to participate but also see the value of hosting and running these frequently locally.
"The 1995 Island Games live in the memory of those who participated, as sportsmen/women, organisers, volunteers or spectators and we are confident we can repeat our previous hosting success," added Gibraltar's organisers.
"GIGA has considered bidding for Games for a number of years and have now been presented with a perfect opportunity to do so. GIGA has full government support and is working closely with all local authorities to ensure the success of the games."