Milk Cup football tournament in name change to Super Cup NI
Last updated on .From the section Football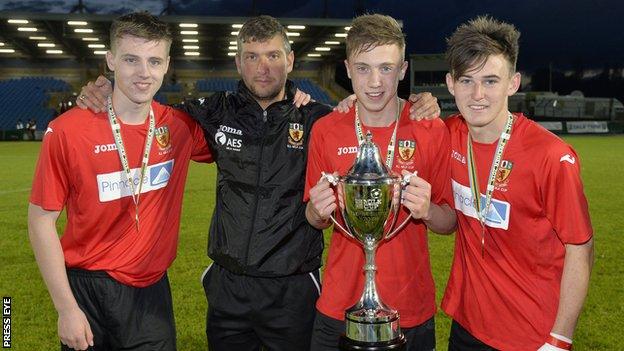 The Milk Cup youth football tournament will be known as the Super Cup NI in 2016 after the competition concluded its sponsorship deal with Dale Farm.
The Dale Farm deal has been in place for two years after the Northern Ireland Dairy Council ended its long-standing sponsorship of the tournament.
Competition organisers are already said to be "actively in discussions" with a number of other potential sponsors.
Manchester United and Liverpool are regular entries in the competition.
The Old Trafford giants have won the Premier Under-16 section a record six times but they were a late withdrawal from this year's competition.
United said that they pulled out after a "thorough assessment of their pre-season training needs" amid suggestions that they were unhappy with the competition's age groups.
Organisers have indicated that as part of a wide-ranging review, age groups and structures will be looked at ahead of the 2016 tournament which will be the 34th staging of the competition.
Tournament officials have said that the decision to end Dale Farm's sponsorship of the competition was "mutually agreed by both parties".
A well-known international company is understood to be a potential new sponsor and it is possible that the tournament may look at the option of having multiple sponsors in the future.
David Beckham, Ryan Giggs and Paul Scholes are among the players to have represented Manchester United in the tournament before going on to have successful careers for the Old Trafford club.
In this year's competition, County Antrim became the first team from Northern Ireland to win the Premier Section after beating Mexican outfit Club America on penalties in the final.
Chairman of the organisers Victor Leonard thanked Dale Farm for their "invaluable financial input" over the past two years in order to secure the event's future.
"We are proud that we have been able to present a Northern Ireland event with a worldwide appeal and now, as the SuperCupNI we are moving forward into a new era," explained Leonard.
"The SuperCupNI Committee are now exploring several options in terms of securing sponsorship for the 2016 tournament.
"We have already had some discussions with regard to potential new sponsors but these are at the preliminary stage. Hopefully we will have positive news in the new year."