Swindon Town: Lee Power to begin manager search
Last updated on .From the section Swindon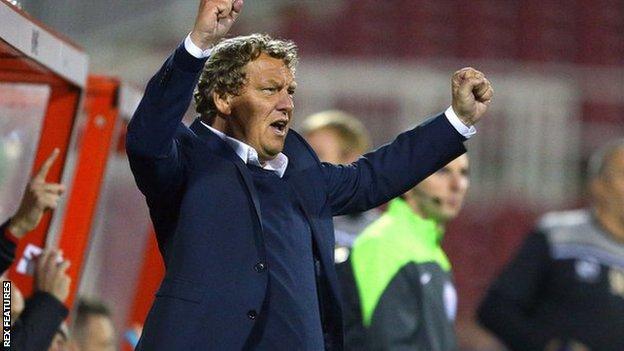 Swindon Town chairman Lee Power says he will start speaking to potential new managers on Wednesday after drawing up a five-man shortlist for the job.
Power was in the dugout to see Swindon lose to Oldham on Tuesday and drop into the bottom four of League One.
"We've got four or five people we want to speak to, it won't be longer than the Wigan game (31 October)," he said.
"Wigan will be the last game I think and we will have someone in place."
Speaking to BBC Wiltshire, Power said he was expecting the job to attract high interest, despite their perilous position.
"Everyone wants it," he added. "It is a good job for someone, a good football club.
"The league position doesn't help, I appreciate that. If you speak to anyone in football, they see the squad we have got and they see the people that are on the treatment table, they're not silly. They know when they come back we've got a good team here."
Power also says he has "no doubt" that Swindon will climb out of danger, while also defending his running of Swindon Town - who last season reached the play-off final.
"We have a football club here now that is very unique in that it doesn't lose money," he said. "People forget we used to lose £5m a year and we don't do that. We have got a good squad, but 11 of them are on the treatment table which does not help.
"I know what I'm trying to achieve at the football club, everything I do is in the best interest of the club and in my short time here I've turned the club round and had a fantastic season last year.
"We've had a blip this year but I'm dealing with it and I'm confident at the end of the season we are not going to be anywhere near where we are now."