Wycombe Wanderers: Ainsworth drops Aaron Pierre for lateness
Last updated on .From the section Wycombe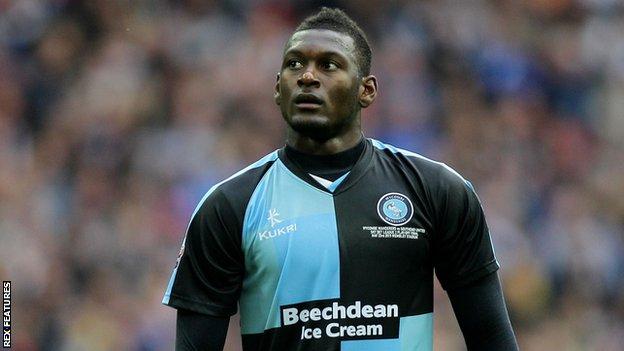 Wycombe boss Gareth Ainsworth says he dropped defender Aaron Pierre after he was late for a team meeting.
"Aaron was late for the team and tactical meeting. We pride ourselves on work ethic and discipline here and you can't be late for an important meeting like that," said Ainsworth.
"It wasn't just a few minutes either, it was quite a way late."
He told BBC Three Counties Radio: "I'm sure he'll be one of the first in next week."
Wycombe topped the League Two table at the end of September, but have lost their last three games and fallen to 10th.
Ainsworth said his side need to work hard to regain the form that took them to the play-off final last season.
"The back four has chopped and changed all season and it's not nice to do that, but you can't just put (the defeat) down to the back four," he added.
"The forward play, we didn't seem to get at them, we never got in behind them, we tried to play and the ball wasn't getting held up, the passes weren't right; there's so much wrong tonight that we need to work on.
"It's not like we've not done it before, I've seen it with this group of players and it's just getting it back out them."