Robert Snodgrass: Hull midfielder ready to 'start again' after injury
Last updated on .From the section Football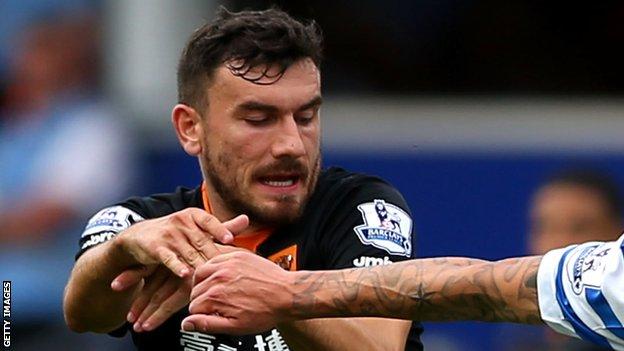 Scotland international Robert Snodgrass says his return from a 14-month lay-off for Hull City will be "like starting again" as a professional footballer.
Snodgrass, 28, dislocated his kneecap in only his third appearance for the Tigers against Queens Park Rangers in a Premier League game in August 2014.
Since then the ex-Norwich midfielder has been in intense rehabilitation but is nearing a first-team return.
He told BBC Radio Humberside: "It's tough but I'm smiling and fighting."
"I've been thinking about the return date, it will be like starting over again," he added.
"I have been in the physiotherapist's room more than the dressing room of late but I'm enjoying the training, taking on the challenges as they're put in front of me and ticking the boxes."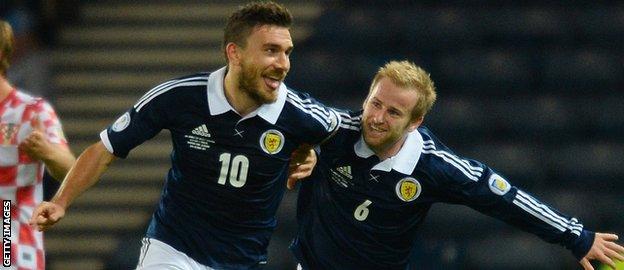 The medical department at Hull have been patient in managing the former Leeds player's return to training, wary of a setback that would extend the absence.
Experts warn a long-term injury can take both a physical and psychological toll on a player, particularly in trusting the joint in running and contact, but Snodgrass is confident he will be back in manager Steve Bruce's plans soon.
"I've been working really hard and this injury is one that when you're outside and running, it gives you 'nitty-gritty' pains here and there," Snodgrass added.
"They moved at a pace going off my feedback, but I've worked closely with them to see a strength programme that would be right for me moving forward and try to get in the first team and a starting place as there's a great competition.
"It was tough to move at that pace, being controlled by surgeons and physios is difficult, but they can't hold me back much longer. I'll be back training next couple of weeks and there will be some game-time."