Jurgen Klopp: Young players treated like horses - Liverpool boss
Last updated on .From the section Football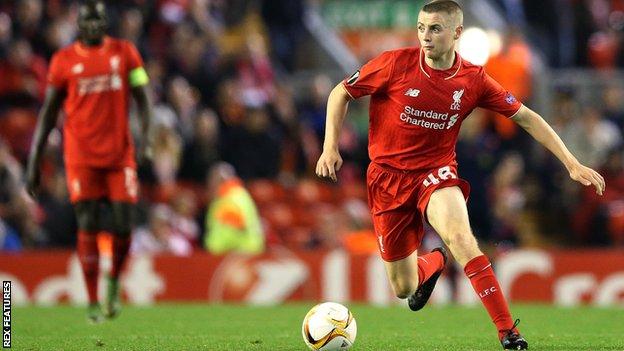 New Liverpool manager Jurgen Klopp has compared the treatment of some young players to that of "horses" after midfielder Jordan Rossiter was injured on international duty.
The 18-year-old is injured after playing three European Championship under-19 qualifying games in six days.
He is out until mid-November and Klopp has demanded an explanation.
"These young players are our future," said the German. "If we handle them like horses, we get horses."
Rossiter, who made his Premier League debut as a substitute at Arsenal in August and has played in each of the side's Europa League games so far this season, has a hamstring injury.
He was one of three players in the England side to play the full 90 minutes against Macedonia on 8 October, Finland on 10 October and Italy on 13 October.
Aidy Boothroyd's England side won the first two games and drew with Italy to come top of the first group stage of qualification.
Klopp said he had "never heard of a player of this age" playing so many games in so few days.
"Rossiter is a special story," said Klopp. "I don't know who I have to talk to about this but I will find a way to talk with somebody about this because it is not OK."
The FA declined to comment, but Boothroyd is in close contact with academy coaches at all clubs about players on international duty.
Klopp lost defender Joe Gomez, 18, on his first day at Anfield after the full-back suffered an anterior cruciate ligament injury in England U21s' 3-0 win over Kazakhstan this month.