Molde 3-1 Celtic: Solskjaer had no time to study Scots opponents
Last updated on .From the section Football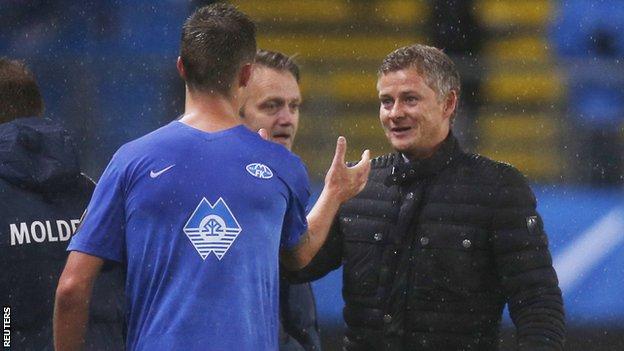 Ole Gunnar Solskjaer said he had no time to study Celtic in preparing Molde for their 3-1 Europa League Group A victory over the Scottish champions.
The former Manchester United striker returned as head coach on Wednesday and said he was leaving most arrangements to former caretaker Erling Moe.
"I didn't really bother about Celtic because it's my second day back," said the head coach.
"And I expected a lot from my boys because I know they are capable."
Solskjaer led Molde to back-to-back domestic titles during his previous three-year spell in charge and many of the same players remain at the club.
They are poised to relinquish their title this season and sit in seventh place, but the coach praised the way they had adapted their game to a more counter-attacking style for the European stage.
Counter-attack tradition
"It has been a completely different way of playing for these boys in Europe compared to Norway and it has worked against Fenerbahce away," the former Cardiff City boss said of that opening group victory.
"Ajax at home maybe didn't work that well, but in this game, yes, spaces opened up and we do have a counter-attack tradition in this club."
That draw against the Dutch and the win over Celtic puts Molde three points clear of Fenerbahce at the top of their group.

Asked if it puts his side in a strong position to qualify, Solskjaer said: "It does, yes.
"Obviously three more points will get us through, but can we get two, can we get three, let's see?
"There are three big games coming up."
Celtic dominated without control
The next one is the return match in Glasgow on 5 November against a Celtic side who are now bottom of Group A behind Ajax on goal difference and two adrift of Fenerbahce.
"It was difficult conditions that made it not the best of games," Solskjaer said of the 3-1 win achieved in driving rain.
"Sometimes it was slow because the pitch slowed it down, the wind slowed it down.
"Obviously they had a lot more possession than us, but I think we controlled the way we defended.
"I think we didn't concede too many chances, although we gave them a goal, which we shouldn't have.
"But, overall, Celtic were dominating the game. Not in control of the game."