Jamie Vardy can be England's Toto Schillaci at Euro 2016

By Ian Wright
MOTD pundit and former England striker
Last updated on .From the section Leicester

There seems to be a snobbish attitude about the possibility of Jamie Vardy being asked to lead England's attack at Euro 2016, because he has come from non-league.
I don't understand it, and not just because I came from that background to play for England myself.
There is no golden group of English footballers emerging from the academies at the biggest clubs, and there is a small pool of players for manager Roy Hodgson to choose from in the Premier League - so where exactly are people expecting our players to come from?
In any case, Vardy is in the England set-up on merit.
He has scored nine goals in nine games for Leicester, before Saturday's game, is the top goalscorer in the Premier League and is in absolutely magnificent form.
Vardy is 28 and close to his peak. If he carries on scoring it should not matter where he has come from, or even who he plays for now, because he could be England's equivalent to Italy's Toto Schillaci next summer.
Schillaci did not play his first season in Serie A until he was 25 and was also a latecomer to international football but, after starting the 1990 World Cup on the bench, he went on to become the tournament's top scorer and a national hero.
How I learned from Lineker at international level
It is true it is easier to win an England cap these days than it was during my playing days but that does not change the fact that an international call-up can have a hugely positive effect on a player.
There was a mostly negative reaction when Vardy was called up for the first time by Hodgson at the end of last season, partly because he had only scored four top-flight goals and it was his first campaign as a Premier League player.
But getting that recognition will have given him a massive boost in confidence, and a big incentive to carry on working hard to stay at that level - I know it did for me.
When I got my first call-up, in 1991, I remember watching Gary Lineker closely in England training and thinking, hang on a minute, he never misses the target and his touch is brilliant.
I was scoring lots of goals at club level but I realised I had to up my game and work on my touch and my finishing. I made sure I didn't miss in training either.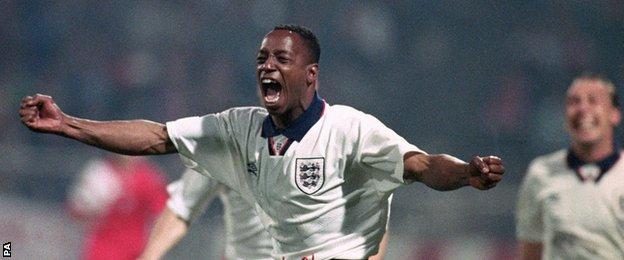 It was the same all the way through my England career, which overlapped with Lineker at the start, Michael Owen at the end and another legend in Alan Shearer almost all the way through. I watched what they did, talked to them and knew how good I had to be to compete for a place.
I learned a lot from them all. For example, Gary taught me how to time my runs and how to be a more relaxed finisher. I used to pick his brains all the time.
Hard work is something Vardy has always done anyway, of course, but now he has been in a few squads he will know the standard he needs to be at to stay in the picture for Euro 2016.
You can bet he will have been watching and learning too. He certainly learned from his first season in the Premier League.
His finishing is one of the things he has got better at in the last few months, and his confidence is obviously sky-high. Considering himself an England player will have played a big part in that.
Jamie Vardy in the Premier League (and rank)

2014-15

2015-16

Games

34

9

Goals

5 (=29th)

9 (1st)

Shots

40 (28th)

30 (2nd)

Shots on target

24 (=17th)

17 (1st)

Shot conversion rate

12.5% (34th)

30% (2nd)

Chances created

35 (8th)

15 (1st)

Touches in opposition box

140 (13th)

66 (2nd)

Tackles

29 (=15th)

14 (4th)

Distance covered (by a forward)

261.96km (17th)

93.25km (3rd)
From a six-month drought to goal machine
All of Vardy's attacking statistics are better this season but I have rated him highly for a while now, and have known about him even longer.
I have kept a close eye on him ever since my old Burnley team-mate Micky Mellon told me to watch out for him after signing him for Fleetwood from FC Halifax in 2011.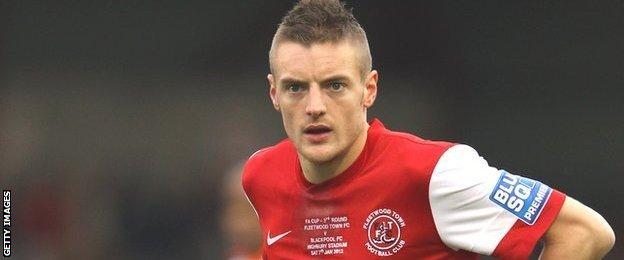 One of the reasons he is doing so well is that while he has been allowed to develop, nobody has tried to knock anything out of his natural game, which is to hustle and pester defenders.
He has improved steadily in the last few years but the way he played when he helped Leicester beat Manchester United in September 2014 was the performance that made me think he could play for England.
I got a lot of stick on social media for saying it then, but his touch, work-rate and finishing that day made me think he was good enough to play international football, and I was proved right.
But it has not happened overnight for him. He did not score in his next 23 games and had changed position by the time he ended his drought six months later.
That shows his mindset - when he was out of form he did not just accept it, he knuckled down and tried to get better.
He has acted the same since he has got a bit of the limelight too. Far from getting carried away by his success, he actually seems to be working even harder.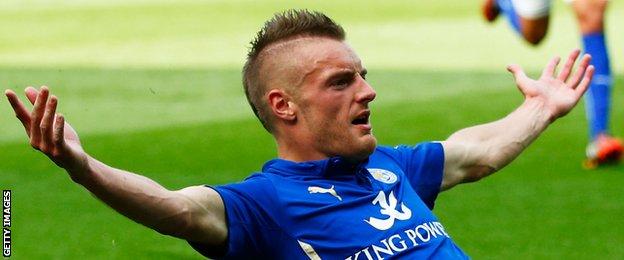 'Play him down the middle for England'
Vardy played down the left for Leicester against United, but the reason he has propelled himself into the England reckoning is down to him playing down the middle, where he has operated since the end of last season.
I have heard him say that Foxes boss Claudio Ranieri trusts him to roam where he wants and play on his instinct, which is just what you want as a striker.
Now I want to see him get a chance playing as centre-forward for England, rather than out on the left.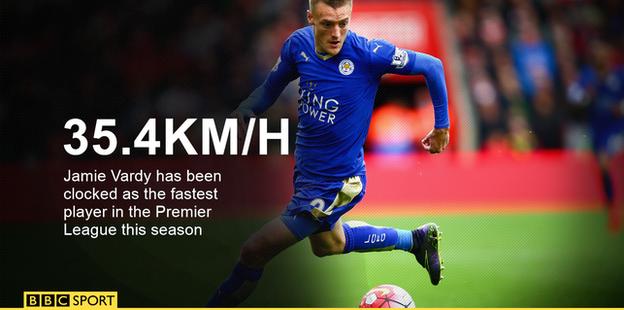 The reason Hodgson has used him there is because of his pace - he has been clocked as the fastest player in the Premier League this season - and the fact he is a willing worker, but it is unfair not to give him a go as a number nine.
The only time I was asked to play out of position for England was under Terry Venables, in a friendly against Romania in the run-up to Euro '96.
I was desperate to stake my claim to make his squad for the finals but, like Vardy I was stuck out on the left.
I ended up spending most of the game running away from the goal and chasing Dan Petrescu every time he came forward, which happened a lot.
I remember thinking surely this is not what I had been picked to do, I was there to play up front.
'Vardy would be my super sub'
If all of England's other strikers are fit, then the best Vardy can hope for at the moment is to come on as a substitute, as a number nine.
It has not happened yet but I think he would be great in that super-sub role because, with his pace, work-rate and finishing ability, he has got everything he needs to frighten international opposition, no matter who they are.
I can understand why Vardy is currently behind Wayne Rooney and Harry Kane in Hodgson's pecking order.
But my worry is if he does not sustain his current form, he is going to be the player who slips down even further down - right now he does not have the same reputation or experience as other players like Daniel Sturridge and Danny Welbeck if they get fit, and that is not going to change unless he gets his chance.
So I want Hodgson to be brave and give him a decent run-out in his proper position in one of the prestigious friendly matches coming up next month against France and Spain.
'I never forgave Taylor for leaving me out'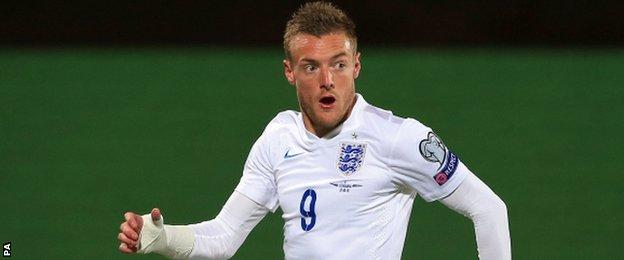 If he continues scoring at this rate for Leicester - or anything near it - then I don't see any way Vardy will miss out next summer.
That happened to me at Euro '92 but I lay the blame for that squarely at the feet of then England manager Graham Taylor. It is something I have never forgiven him for.
I scored 29 league goals for Crystal Palace and Arsenal to win the Golden Boot in the 1991-92 season but he still didn't take me to Sweden and I am still aggrieved by that when I look back on it because I was at the very height of my game and I think I could have made a difference.
Taylor took Lineker, Shearer and Alan Smith when I had scored more than twice as many league goals as Shearer and had just spent the last few months playing up front for Arsenal with Alan Smith. Obviously we did very well together, so you would have thought that would have helped my case too. It didn't.
Everything I had been taught about football came down to my belief that if I worked hard and did well, I would be rewarded but, not only was I not rewarded, I did not even make the squad and Taylor could never give me a good reason why.
I just hope that does not happen to Vardy, because the nightmare situation for him is that he does well all season but then other people get fit and beat him to a place on the plane to France.