Simon Petulla: Jersey women already planning for 2017 gold
Last updated on .From the section Women's Football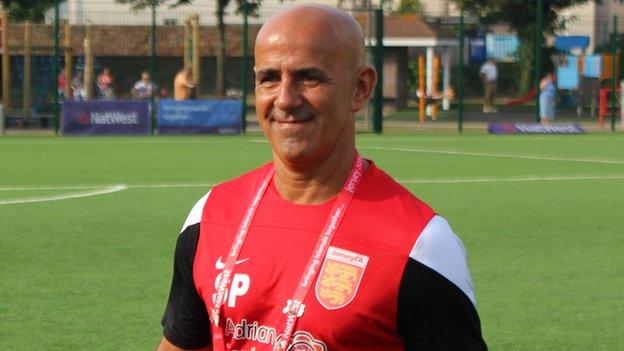 Jersey manager Simon Petulla says his side is already planning on how they can retain their Island Games women's football gold medal.
It will be their final opportunity this decade to win gold as football has been dropped from the 2019 Island Games.
"This is the start of phase two and the goal will be to win that gold medal in Gotland," he told BBC Jersey.
Petulla took over as island boss in November 2014 and has already had a big impact on Jersey's fortunes.

But he says the squad must get better if they are to retain their title on foreign soil.
"We realise that what won us the gold this time won't win us the gold in Gotland so we need to improve," he added.
"We've got to get a plan in action for them so they can see we are preparing ahead and we have got plans to win it again."
Petulla and his backroom team have already drastically changed the sport in Jersey, according to colleague Jimmy Kelly.
"We've really helped pull women's football out of the dark ages on this island and there's so much more than we can do and so much more that we want to do," said Jersey's sports performance coach.
"There's a phrase 'to win a medal takes talent, but to retain it takes character' and we're looking for characters now - people who want to come on this journey with us all the way to Gotland 2017.
"In that sense it's a more exciting time now and we just need to get that over the to the players and make sure that they've got that opportunity to be the best that they can be."